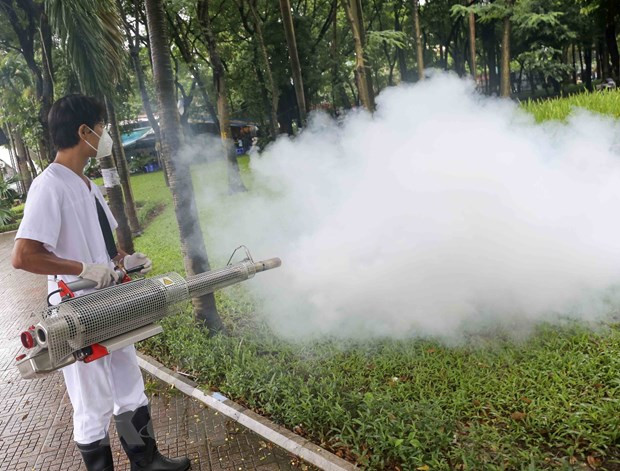 A health worker sprays insecticides to kill mosquitoes. VNA/VNS Photo
To eradicate malaria from its shores, Việt Nam has pledged to increase funding and human resources towards this goal.
The Ministry of Health has announced plans to review, amend, and supplement professional guidelines to ensure nationwide implementation and assess the National Strategy for Malaria Prevention, Control, and Elimination by 2020 with a view towards 2030.
At a conference held by the Ministry of Health and PATH Organization yesterday, attendees reviewed the progress made in preventing and controlling malaria and parasitic diseases in 2022 while also outlining plans for 2023 in the northern region.
The event was designed to enhance communication and policy advocacy to ensure sustainable financing for malaria elimination and prevent its return. Attendees were also updated on new and effective treatment methods.
In the conference, the ministry said that it continues to promote professional activities and interventions in malaria hotspots, as well as maintain surveillance to prevent malaria from returning in 42 provinces and cities that are malaria-free.
The ministry expands and improves the quality of activities against parasites and insects, reviewing and strengthening the capacity of health workers at all levels to meet the requirements and tasks, setting up policies to attract and retain human resources, and implementing solutions to ensure both domestic and international resources for the programme's operation.
At the conference, many participants said it is necessary to strengthen policy advocacy to ensure funding for activities and benefits for health workers, enhance research and apply new and effective techniques and technology in disease prevention, detection and treatment.
In addition, functional units need to evaluate the sensitivity of mosquitoes that transmit malaria and dengue fever to some insecticides, develop a list of insect testing techniques for health establishments at all levels, and draw out maps of mosquito distribution and chemical resistance of Anopheles and Aedes mosquitoes.
For parasitic diseases, it is necessary to complete policies, organise the prevention and control system, strengthen training, mobilise resources from international organisations, and develop a plan for prevention, control, research and reporting system of parasitic diseases and testing system up to ISO standards.
According to data from the National Institute of Malaria-Parasitology-Entomology, over the past 30 years, the National Malaria Prevention and Control Programme has achieved remarkable achievements.
In 1991, malaria spread, becoming serious throughout the country with more than one million patients, 4,646 deaths and 144 outbreaks.
As of 2022, Việt Nam recorded 455 malaria patients, one death and no malaria epidemic. Notably, 42 provinces and cities have been recognised for eliminating malaria.
However, malaria is still complicated, with more than 6.8 million people living in malaria-endemic areas, mainly in Lao Châu, Bình Phước and some provinces in the Central and Central Highlands (Tây Nguyên) regions.
Malaria is still occurring in Việt Nam due to drug-resistant malaria, cross-border malaria, population mobility, chemical-resistant mosquitoes, and low investment in malaria prevention and control.
Also, in 2022, the National Institute of Malaria-Parasitology-Entomology collected the main malaria-transmitting mosquitos at the survey sites.
The institute found that some mosquitoes are sensitive to insecticides such as alpha-cypermethrin, lambda-cyhalothrin and deltamethrin. In contrast, others are resistant to the insecticides of alpha-cypermethrin, lambda-cyhalothrin and deltamethrin.
According to figures from the Ministry of Health, in 2022, Việt Nam recorded over 360,000 dengue fever cases nationwide and more than 100 deaths.
The institute has monitored dengue-transmitting mosquitoes at 57 points across 12 provinces.
Monitoring results showed a change in the behaviour of mosquitoes that transmit malaria, and mosquitoes transmitting malaria and dengue fever are resistant to insecticides.
To prevent and control parasitic diseases in Việt Nam, last year, more than 12.8 million of 24-60-month-old children, primary school students and women of reproductive age were dewormed.
Deworming campaigns conducted by the provinces were carried out safely, reaching a 95-98 per cent coverage rate. VNS