Vietnam supports right to develop, use atomic energy for peaceful purposes
Vice Spokesman of the Ministry of Foreign Affairs Doan Khac Viet on April 29 affirmed Vietnam's support for the right to develop and use atomic energy for peaceful purposes.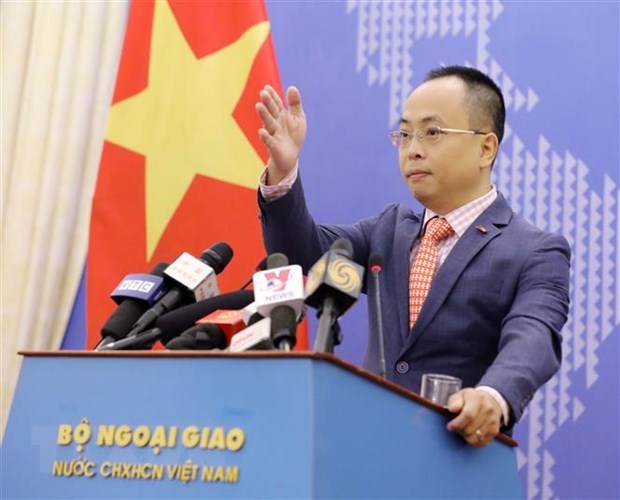 Vice Spokesman of the Ministry of Foreign Affairs Doan Khac Viet 
Viet told the ministry's regular press conference that the responsibility for ensuring nuclear safety and security belongs to states, but it requires strong and transparent international cooperation in information sharing and responsible response if any incident or accident happens.
Vietnam advocates the maintenance of regional peace and stability and the protection of the maritime environment and maritime resources in line with international law, including the 1982 United Nations Convention on the Law of the Sea (UNCLOS), as well as regulations of the International Atomic Energy Agency (IAEA), Viet said.
Most recently, he went on, Vietnamese Minister of Foreign Affairs Bui Thanh Son and his Korean counterpart Chung Eui-yong discussed international and regional issues of common concern during their phone talks on April 28.
They agreed to enhance all-level exchanges, especially at high levels, via flexible forms like teleconferenced talks, strengthen ties between the two foreign ministries, and support and closely coordinate with each other within regional and international cooperation frameworks like the UN and ASEAN, according to the Vice Spokesman.
Noting Vietnam's viewpoint on the reception of Vietnamese nationals returning from the UK, he said the reception has been carried out on the basis of the Vietnam-UK agreements, along with international law and practices, including the memorandum of understanding signed by the two governments on October 28, 2004 on migration issues, so as to ensure the citizens' rights and legitimate interests and accord with the countries' legal regulations.
Vietnam hopes that the UK side will always create favourable conditions for the Vietnamese community there to integrate and contribute to the prosperous development of the UK, and also to bilateral relations, he said, adding that the Vietnamese Government supports legal, safe, and orderly migration while resolutely preventing and fighting against illegal migration, the arrangement of illegal migration, and human trafficking.
According to the Vice Spokesman, the Prime Minister of Vietnam on February 9, 2021 approved a programme on human trafficking prevention and control for the 2021-2025 period, with a vision to 2030, that includes the task of enhancing the combat against human trafficking in international migration.
Vietnam is also continuing efforts to achieve the targets of the Global Compact for Safe, Orderly, and Regular Migration under the plan issued by the Prime Minister on March 20, 2020 so as to create a transparent migration environment and protect the rights and legitimate interests of migrants, Viet added.
The country has been stepping up cooperation with countries and organisations, including the International Criminal Police Organisation (Interpol), to prevent, detect, investigate, and deal with illegal migration rings in line with the law.
Vietnam is ready to discuss and coordinate with other countries to handle related cases in a timely manner and ensure legal and safe migration for the sake of migrants' rights and legitimate interests, the Vice Spokesman affirmed./.VNA