As from 00:00 on March 18, those who are exempt from visa or possess visa exemption certificates for overseas Vietnamese and their family members, and some other special cases (specialists, business managers and skilled workers) are required to have certificates of testing negative to SARS-CoV-2 issued by an authorized agency and accepted by Vietnam in order to enter Vietnam.
The requirement is not applicable for those who enter Vietnam for diplomatic or business purposes.
All people entering the country must undergo medical checks and follow epidemic preventive measures as required.
Besides cases of arrivals already subject to concentrated quarantine, people arriving from the US, European and ASEAN countries are now also required to be quarantined in concentrated facilities; and those who are not subject to concentrated quarantine must be self-quarantined and put under medical monitoring at their houses, enterprises and accommodations or in groups.
Vietnam has informed this decision to diplomatic representative missions, consular offices, and representative offices of international organisations in Vietnam. The country will continue to keep a close watch of the situation and coordinate with other countries and international organisations and partners to timely adjust epidemic prevention measures for the highest goal of protecting the health and safety of Vietnamese people and foreign citizens in Vietnam.
Visa suspension hits travel firms hard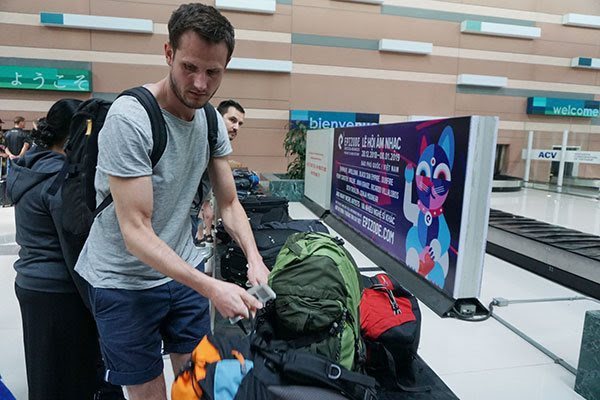 Passengers collect baggage at Phu Quoc international airport in Kien Giang Province. This Mekong Delta province of Kien Giang on March 17 stopped receiving tourists from virus-hit regions
Vietnam's decision to suspend visas to tourists from all countries to contain the spread of the new coronavirus has sent tour operators into limbo.
According to a directive of Prime Minister Nguyen Xuan Phuc, the visa suspension took effect from today, March 18.
Many travel companies complained that they had been given little time to prepare for the decision.
Hoang Thi Phong Thu, chairwoman of Pegas Misr Travel Vietnam, on March 17 said her firm had just informed Russia-based Pegas Touristik of the visa suspension, which caused their operations to slide into chaos.
"If the visa suspension had gone into effect next week, we could have managed to adjust our operations better," said Thu.
During the pandemic, Pegas Misr Travel regularly served Russian visitors who travelled to Vietnam on chartered flights. Some 15,000 Russian tourists were expected to visit this Southeast Asian nation this month. Also, tourists booked tours with the firm for trips in June and July, Thu added.
The local tourism industry has taken a big hit as the outbreak of the new coronavirus, which causes a disease called Covid-19, has led visitor arrivals to the country to nosedive. However, it has not suffered plunging tourist arrivals from the Russian market.
Following this visa suspension, the industry is bracing for major losses.
According to Bui Viet Thuy Tien, managing director of Asian Trails Company, her company had served some 100 foreign tourists in Vietnam.
Tourists on the last days of their trips noted that they would return to their countries after finishing their tours; those arriving in Vietnam on March 15 wanted to return to their countries earlier than scheduled as they were concerned about travel restrictions in the days to come.
Tien added that her firm's tours from mid-March to mid-April have been cancelled.
However, the Asian Trails representative said the visa suspension was necessary to combat the fast-spreading Covid-19. If the pandemic is contained and ends soon, the industry can recover, she remarked.
Data from the General Statistics Office showed that the number of international tourists in Vietnam declined by over 700,000 between January 21 and February 22 as a result of the pandemic.
Tourism operators forecast that tourism losses could be more severe next month.
COVID-19: passengers from ASEAN countries subject to compulsory quarantine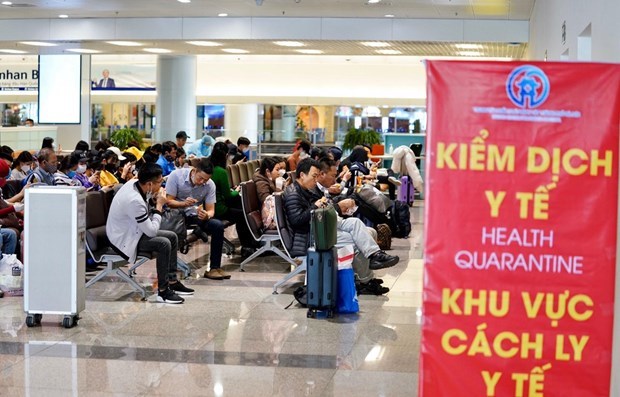 At Noi Bai international airport
Citizens of ASEAN countries or those from other countries who have stayed or transited ASEAN member states within 14 days before the date of their entry into Vietnam will be subject to compulsory concentrated quarantine for 14 days since the date of arrival, starting from 0am on March 18.
The new requirement is detailed in an urgent dispatch that the Transport Ministry sent to the Civil Aviation Administration of Vietnam (CAAV) on March 17.
The ministry asked the CAAV to direct all airlines to inform all passengers from ASEAN member states that they should make careful consideration when buying tickets to Vietnam.
The CAAV was also urged to direct all Vietnamese airlines to request passengers on domestic flights to fill in compulsory health declarations when doing check-in procedures, and guide passengers in filling in declaration electronically.
The airlines must also check all passengers' body temperatures before boarding.
The CAAV was also required to ask airports and its medical quarantine units to monitor the implementation of Vietnamese carriers.
By March 17 morning, Vietnam recorded 61 COVID-19 cases, including 18 foreigners.

The Vietnamese Government will most likely suspend all visas issued to citizens of all countries over a period of 15 to 30 days to contain the fast spread of the coronavirus.  

Vietnam's immigration laws will undergo a radical shake-up this summer in an effort to widen the doors for tourists while protecting the country from foreign criminals and illegal workers.