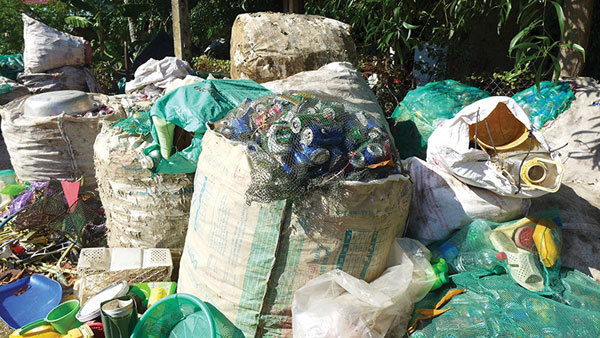 Vietnam is mobilising all resources to clean up three-quarters of marine plastic litter by 2030. -- Photo: Saigon New Port
Estimates predict that without prompt government action, between 0.28 and 0.73 million tonnes of plastic will flow into Vietnam's seas each year, causing tremendous economic, social, and environmental damage. Conscious of this issue, the Vietnamese government passed the Law on Environmental Protection in November 2020 and committed to a number of activities to tackle this issue, led by the National Action Plan for Management of Marine Plastic Litter by 2030.
Taking stock of growing plastic waste pollution across the globe and Vietnam, the government has launched a comprehensive action plan mobilising ministries and national agencies of all levels in one unprecedented country-wide push to protect Vietnam's marine environment form plastic waste.
The plan includes 5-year and 10-year targets to decrease plastic waste in Vietnam's waters. By 2025, Vietnam is determined to reduce marine plastic litter by 50 per cent. The country also aims to collect 50 per cent of abandoned, lost, or discarded fishing gear, such as fishing nets, and to prevent the use of single-use plastics and non-biodegradable plastic bags in 80 per cent of coastal tourism areas, tourist attractions and accommodations, and other coastal tourism service areas.
In addition, the country is planning to conduct nationwide beach cleanup campaigns at least twice a year and strive to make 80 per cent of protected marine areas free of plastic litter.
By 2030, the aim is to reduce marine plastic litter by 75 per cent in Vietnam's waters with all abandoned, lost, or discarded fishing gear collected and disposed of. By then, the country strives to eliminate the use of single-use plastics and non-biodegradable plastic bags from all coastal tourism areas and ensure that all protected marine areas are free of plastic litter.
In order to realise the above targets, Vietnam is focusing on education and behaviour change with regards to plastics and marine plastic litter.
Another key action being deployed by Vietnam aims to improve the collection, classification, storage, transfer, and processing of plastic waste from coastal and ocean-based activities. In this regard, the government has tasked the Ministry of Natural Resources and Environment (MoNRE) and other relevant regulatory bodies to deploy beach cleanup movements and campaigns in coastal localities and residential communities. These public agencies will also have to decide on and invest in the necessary infrastructure for plastic waste storage equipment and collection sites to ensure safety, environmental hygiene, and aesthetics. They will also be key partners in the development of a marine plastic litter database to complement the national waste source database.
In addition to these initiatives, Vietnam will increase international cooperation and scientific research, as well as the development, transfer, and application of marine plastic litter processing technologies to support these ambitious targets.
Since promulgation of the action plan in December 2020 in Decision No.1746/QD-TTg, Vietnam has already engaged in numerous international activities and collaborations to address marine plastic waste.
In January, the Vietnamese government decided to join formal international talks on plastic waste reduction. The talks initially took off in 2020, when 80 countries began advocating for a legally-binding global agreement on plastic waste. The MoNRE and other ministries and authorities were then assigned to compile a project on Vietnam's participation in discussions taking place in the second quarter of 2021 and the fifth meeting of the UN Environment Assembly next February.
The ministry in turn assigned the Vietnam Administration of Seas and Islands to participate in this preparatory work for a stronger representation of marine expertise. Since then, the administration has submitted various ideas to fight ocean litter and achieve microplastics reduction to the UN Environment Council's expert group and has been actively participating in shaping the global deal on plastic waste.
In addition, in February, the Ministry of Agriculture and Rural Development issued Decision No.687/QD-BNN-TCTS approving the very first action plan in Vietnam's history on marine plastic waste management in the fisheries sector (2020-2030). This action plan aims to reduce plastic waste in fisheries production by gradually managing marine plastic waste from source to the sea, implementing a circular economy approach, developing a green economy, and raising awareness and social responsibility of farming and fishing communities, fishermen, and businesses.
According to MoNRE Minister Tran Hong Ha, Vietnam will also promote research and sharing of information and data concerning marine plastic litter with other nations and territories in the region and around the world. Vietnam also aims to maintain and strengthen cooperation with international marine organisations and to proactively adopt new and existing international conventions on marine litter.
International collaboration for the control and management of marine plastic waste is also a national objective. Furthermore, it is studying the establishment of a public-private partnership mechanism to facilitate cooperation between businesses and government agencies in solving the problem of plastic waste pollution and ocean plastic waste.
VIR

Vietnam is striving to become a regional pioneer in reducing ocean plastic waste, heard a recent virtual meeting of environmental officials of Vietnam, Germany, Ecuador and Ghana.