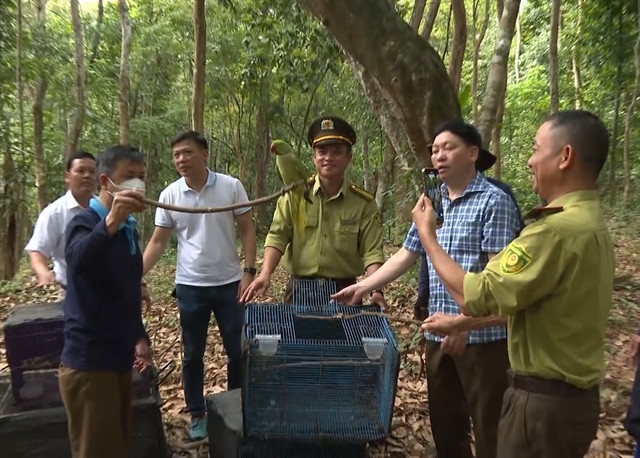 Việt Nam has taken significant measures to combat the illegal wildlife trade and protect biodiversity, according to officials, implementing a range of measures, including improving laws, increasing public awareness, and enforcing strict penalties for violations.
According to Đỗ Quang Tùng, director of the Ministry of Agriculture and Rural Development's Endangered Wildlife Conservation project, the country's legal framework for controlling the exploitation and trading of wildlife is comprehensive and appropriate for practical requirements. This includes the 2017 Forestry Law and related legal documents.
Tùng noted that the dissemination of legal regulations and coordination among stakeholders in legal enforcement has led to strict punishments for several violations and a significant reduction in demand for wildlife and its products which include food, medicine, and jewellery.
Statistics from the Forest Protection Department show that the number of violations related to wildlife across the nation decreased by 147 cases per year from 2018-2022 compared to 2013-2017.
However, illegal trading, transportation, and consumption of wildlife still occur with much more sophisticated tricks to evade law enforcement, notably the case of 17 captured tigers in the central province of Nghệ An in 2021.
Tùng admitted that the illegal trade of wild animals across the border remains a complex issue, requiring increased coordination and cooperation at the national, regional, and global levels.
Prevention also involves the improved capacity of law enforcement agencies and higher awareness among consumers.
Last year, the MARD and the US Agency for International Development (USAID) launched a project to protect endangered wildlife species over five years.
The project will coordinate with the Coalition to End Wildlife Trafficking Online, the Việt Nam Chamber of Commerce and Industry (VCCI), and the Việt Nam E-commerce Association (VECOM) to effectively adopt measures to prevent content related to wildlife trafficking crimes on social media platforms, advertising websites, and actions that encourage wildlife consumption.
It will also help raise awareness among the public and businesses on the risks associated with illegal wildlife trade, assist enterprises in building technical barriers, and take specific actions on each platform and website.
Joint efforts
It should be recognised that the public's reporting of wildlife infractions and the authorities' responsiveness have proven useful for the fight against wild game trafficking in the recent past.
An annual report released by the Education for Nature – Việt Nam (ENV) has shown efforts by authorities in 62 provinces and cities, excluding Bạc Liêu Province, that reported no infringements.
In 2022, law enforcement bodies, mainly the public security and forest protection forces, responded to 97 per cent of the wildlife violations reported via the ENV hotline 1800-1522, which helped people quickly liaise with authorities and report violations.
Authority responsiveness is key to establishing and maintaining effective cooperation with residents to combat wildlife crimes.
However, despite a relatively high response rate to reports, the rate of cases successfully dealt with remains low, at 28.9 per cent. Only one in every three violations related to living wild animals were successfully handled.
According to the ENV, local authorities must improve the effectiveness to raise the rate of successfully handled cases to at least 50 per cent in the coming years.
ENV Deputy Director Bùi Thị Hà said the report's results, first launched in 2020, are submitted to the people's committees of provinces and cities to understand the situation compared to others nationwide.
With a relatively complete legal system on wildlife protection, the most important thing now is to enhance the effectiveness of law enforcement, she said.
She hoped that relevant agencies would pay more attention to the effective settlement of wildlife crimes regardless of whether the animals involved are rare or if violations are committed online or in reality.
In the Central Highlands province of Đắk Lắk, there are 37 domesticated elephants, a sharp fall from the 502 recorded in the early 1980s.
To promote wildlife protection, the ENV and the provincial Department of Information and Communications have connected the app Đắk Lắk Trực tuyến (Dak Lak Online) with a hotline for wildlife protection 1800-1522 since September 2022.
The province's centre for elephant conservation, animal rescue, and forest management has instructed its staff members to install the app to introduce it to residents and encourage the public to report wildlife crimes and animals that require rescue.
In addition, the ENV and the Đắk Lắk department have also coordinated to hold seminars and training courses on wildlife crime settlement for press agencies, released short films, texted telephone subscribers, and shared images and messages online to disseminate legal regulations and discourage the public from wildlife trafficking and consumption. — VNS