Vietnam targets environmentally friendly tourism development
Green growth and stable development are the orientation of the tourism industry in the coming time.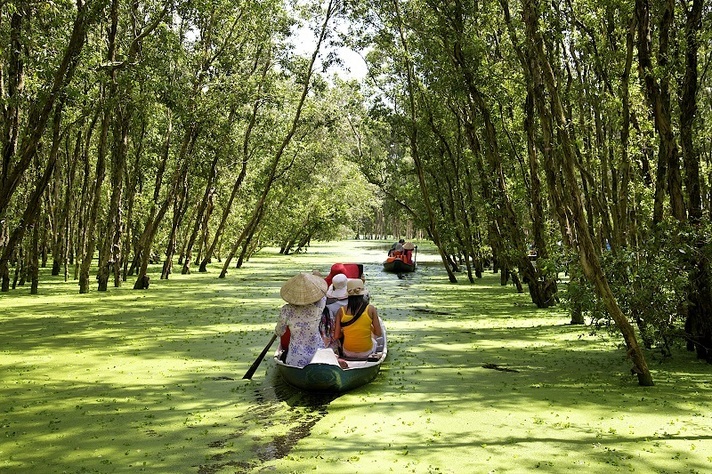 The Tra su cajuput forest in An Giang province. Photo: Thuy Linh



Prime Minister Pham Minh Chinh has issued Decision 933/QD-TTg approving the tourism system planning for the period 2021-2030, with a vision to 2045, fostering tourism development and environment protection.
Accordingly, the planning must comply with the Party's guidelines and the State's policies and regulations on socio-economic development, sustainable marine economy, and tourism growth strategy until 2030.
The planning aims to achieve sustainable green tourism, ensuring tourism growth and the conservation and promotion of the values of natural and cultural resources, creating tourism products imbued with national identity, protecting the environment, and promoting the potential and advantages of tourism in each region.
At the same time, it must derive from practical demands, meet the requirements of the immediate and long-term tasks, overcome the shortcomings and inadequacies, and promote advantages, tourism potentials, and strengths of each region and locality.
Thereby, it is required to identify the basis of tourism development orientation for each region, powerhouse areas, national tourist areas, and others potential in regional planning. It also sets the directions for setting up the technical and specialized areas related to tourism sectors, the management of tourism activities as well as the mapping out of medium and long-term tourism development programs.
In order to implement the planning, it needs a connection between tourism and the infrastructure of transport, energy, environment, agriculture, and national information and communication.
Moreover, the planning must foresee development trends forecast, climate change, disasters, and global pandemics.
The planning will be executed based on the development of tourism products and market, promotion and advertising, tour operator creation and human resources training, the cooperation between sectors and localities, investment, among other measures.
Source: hanoitimes

The Drug-related Crime Investigation Police Department under the Ministry of Public Security warned that many foreigners have been taking advantage of traveling to Vietnam to commit a drug crime.