Vietnam to pilot resuming regular int'l flights from Jan. 2022
All flights to be resumed must comply with the rules from the health ministry on medical measures to prevent the spread of Covid-19 and ensure safety, efficiency and smoothness.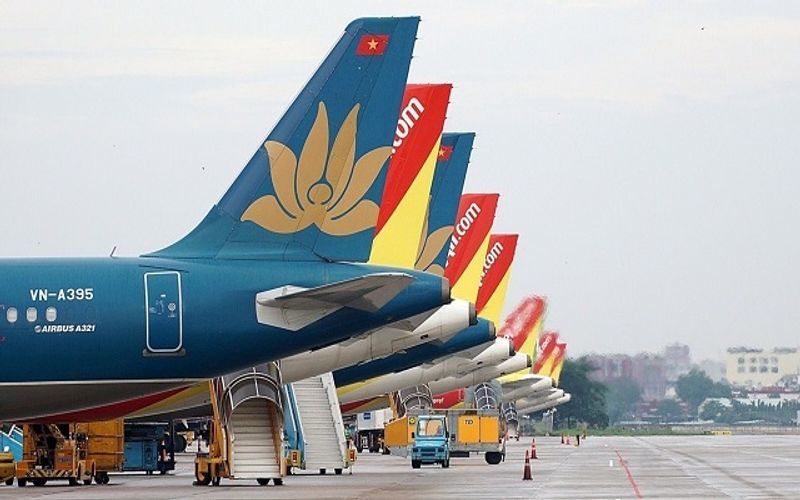 Vietnam will pilot resuming regular international flights from and to international destinations which are highly safe from Covid-19 since January 1, 2022, said the latest plan approved by the Vietnamese Government.
Accordingly, Deputy Prime Minister Pham Binh Minh has given green light to restore such flights which will operate between Vietnam and Beijing/Guangzhou (China), Tokyo (Japan), Seoul (South Korea), Taipei/Taiwan (China), Bangkok (Thailand), Singapore, Vientiane (Laos), Phnom Penh (Cambodia) and San Francisco/Los Angeles (the US).
The trial plan comes amid the context that Vietnam has eased strict Covid-19 restrictions and reopened the economy under a strategy of living safely with the coronavirus since early October, around 20 months after the first novel coronavirus cases were detected in the country.
The move is aimed at restoring international passenger transport, speeding up economic and tourism recovery and enabling overseas Vietnamese to return home for the upcoming Lunar New Year, Minh said in the government directive.
While the resumption of international flights is necessary, effective pandemic control must also be ensured, Minh added, urging relevant authorities and aviation businesses to work actively to realize the approved plan.
The Deputy PM asked the Ministry of Health to promptly the medical guidance, which should be discussed with experts and businesses, for passengers entering Vietnam on regular international commercial flights.
All flights to be resumed must comply with the rules from the health ministry on medical measures to prevent the spread of Covid-19 and ensure safety, efficiency and smoothness, the official said.
The Ministries of Health, Public Security, and Information and Communications are told to immediately discuss and publish a medical declaration software applicable to air travel to facilitate the declaration of passengers, activities of aviation enterprises and tracing of people on entry.
The Ministry of Transport must guide airlines to restore regular international flights under the approved pilot plan and ask them to give feedback to promptly make adjustments in line with the real situation, Minh said.
Deputy PM asked the communications ministry to co-ordinate with the Ministries of Foreign Affairs, Transport, and press agencies to disseminate information so that people can clearly understand the purpose and meaning of restoring regular international flights as well as ensuring safety and effectiveness in the pandemic prevention.
He also requested the Ministry of Foreign Affairs, in conjunction with the health ministry, to speed up negotiations and reach agreements with other countries and territories on mutual recognition of Covid-19 vaccination certificates, also called vaccine passports.
As of early December 2021, Japan, the US, the UK, Australia, and Belarus have recognized Vietnam's vaccination certificate with a number of specific standards on vaccine types.
Meanwhile, as of December 8, Vietnam temporarily recognized the vaccination certificates of 78 countries and territories, which were officially introduced to the country's foreign ministry.
Vietnam closed its border and grounded all international flights since March 2020 due to the Covid-19 pandemic, only allowing entry for Vietnamese repatriates, foreign experts diplomats, investors, skilled workers with strict quarantine requirements.
Recently, the country has gradually opened its borders to international visitors in a pilot scheme to revive the tourism industry, after deciding to live safely with the pathogen.
Source: hanoitimes

Since March 2020, when international flights to Vietnam were interrupted and then stopped completely because of Covid-19, Vietnamese citizens have not been able to return home unless they book 'rescue flights'.