Vietnam to produce its own satellite

Vietnam will produce its own satellite using radar-tracking technology, LOTUSat-1, following the signing for the package 'LOTUSat-1 – Equipment and Capacity Development' between the Vietnam Space Centre and Sumitomo Corporation.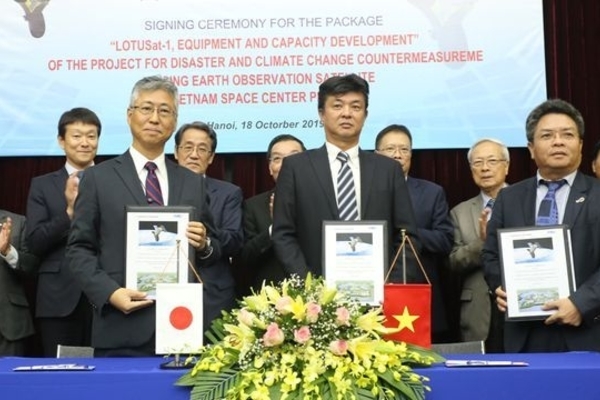 Delegates at the signing ceremony (Photo: dantri.com.vn)
The signing of the package was made under the project for climate change and natural calamities prevention and control.
Using the latest radar-tracking technology, the 570-kg LOTUSat-1 is designed to operate in all weather and climate conditions.
According to Associate Professor, Doctor Pham Anh Tuan, General Director of the Vietnam Space Centre, image data collected from the satellite can provide a precise source of information in case of emergency situations, helping to reduce losses and mitigate the impacts of climate change and natural disasters.
It will also contribute to improving the management of natural resources and environment monitoring, he added.
Yosuke Asai from the Japan's Ministry of Economy, Trade and Industry, since natural disasters have become more frequent, the use of a satellite will help to mitigate losses. It also marks further progress of Vietnam mastering satellite technology.
Earlier in January this year, Vietnamese satellite MicroDragon was launched into space. The satellite was developed by 36 Vietnamese engineers from the Vietnam National Space Centre (VNSC), who were sent to study space technology in Japan.
Previously, VNSC engineers successfully made a satellite named PicoDragon (10x10x11.35 cm, 1 kg), which was launched into orbit in 2013. Nhan Dan

Vietnam is completing the construction of 65 Continuously Operating Reference Stations (CORS), using the Global Navigation Satellite System (GNSS) to provide highly accurate geo-spatial positioning data.