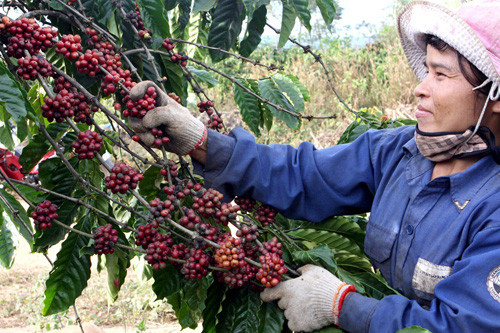 In recent years, Vietnam has become the second largest coffee supplier in the world. Especially for Robusta, Vietnam provides up to 40% of global supply. However, Vietnam has not taken full advantage of the current position to affirm Vietnamese coffee's importance in the global coffee supply chain.
In 2023, the price of Robusta traded on the ICE London, started to rise when Vietnam was the only large supply available in the market. However, Vietnamese coffee farmers reduced sales before and during the Lunar New Year, which caused a sharp drop in exports during this time.
According to statistics from the Vietnam General Department of Customs, Vietnam's coffee exports in January were 160,000 tons, down nearly 40% compared to the same period in 2022.
This is considered the main reason for the increase of Robusta prices, which also proves the role of Vietnam in the global Robusta market. However, this importance only comes from the volume of Vietnamese coffee, not the added value. Vietnam currently has no coffee brands in the world's top 10 major coffee brands.
Vietnam mainly exports unprocessed coffee bean, with low added value. The country needs to shift from exporting raw bean coffees to processed coffee products, experts says.
This change will not only help Vietnam's coffee industry raise the export value, but also build the sustainable development. The expansion of coffee growing area to increase export value is no longer a priority because many countries, especially European nations, have enacted a ban on coffee imports related to deforestation.
In addition, adding cultural values to coffee products to make Vietnamese coffee special is also a solution.
In addition to boosting exports, it is extremely important to exploit the domestic market.
With nearly 100 million people, over 300,000 coffee shops with an annual growth rate of about 2% in the period of 2016-2022, the demand for coffee of the Vietnamese market is huge. Moreover, coffee consumption per capita in Vietnam is still at a very low level, only 2kg/person/year, compared to 5.8 kg/person/year of Brazil, 4.2kg of the US and 12kg of Finland.
The average rate of domestic coffee consumption was only about 10% in the past 10 years, much lower than that of major exporting countries like Brazil and Indonesia, with 25-30% of coffee output. This shows the great potential of the local coffee market.
In the context that the international market is experiencing great fluctuations in coffee consumption due to concerns about a large-scale economic recession, stricter requirements of importing markets, prioritizing the domestic market will help Vietnam's coffee industry to be more stable against the turbulence of the international market.
Hanh Nguyen