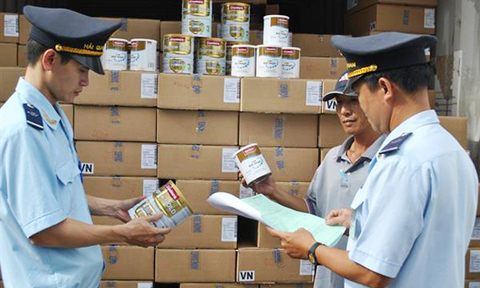 Customs officials were checking a batch of goods. Viet Nam would hasten the reform of customs checks further with an aim to save time and costs for businesses and facilitate trade. — Photo moit.gov.vn
At a meeting on Wednesday discussing a project about renovating the checking model for export/import product quality, Minister and Chairman of the Government Office Mai Tien Dung said the simplification of customs checks had seen significant improvements in recent years.
Many ministries have been making efforts to reduce the number of goods categories subjected to customs checks and to simplify administrative procedures, as well as tackle overlaps in customs checks between different ministries.
However, Dung said risk management in customs control had not been efficient as expected. He said a number of checks were carried out but few batches of goods were found to fall to meet quality requirements, just 0.47 per cent.
Overlaps in customs checks still existed, Dung said, adding that some goods categories were still subject to checks by two or even three agencies, which wasted time and money.
"Inefficient customs checks are a burden to businesses," he stressed.
Viet Nam should boost reforms and innovate customs checks for greater efficiency, Dung said, adding that efficient customs checks would create room for accelerating economic growth.
Dung said the Government had asked the Ministry of Finance to develop a project about customs checks reforms so local customs departments would be the central unit to carry out checks at border gates (except for products related to national security and defence and quarantines).
"Reforms must ensure the quality of export/import goods and create favourable conditions for businesses," he asked.
Dung said that it was also necessary to have a mechanism for transparent information exchanges between ministries and agencies in customs checks to facilitate import and export activities.
A representative from the Private Sector Development Committee said firms expected more reforms in customs checks and about 90 per cent of businesses agreed with the Government's policy of making customs departments the central unit to carry out checks at border gates.
In the past five years, time for customs checks reduced from an average of seven days to one to three days.
According to Mai Xuan Thanh, deputy director of the General Department of Customs, the percentage of goods batches which must be checked before clearance fell from 25.93 per cent in 2015 to 19.1 per cent in 2019.
Thanh, however, said many products had not had technical standards as a base for carrying out checks, which remained an issue.
Statistics showed that as of the end of December, there were about 70,000 products subjected to customs checks.
Overlaps still existed in 25 goods categories, Thanh said.
Deputy Minister of Finance Vu Thi Mai said the project should be implemented in two phases.
The first phase (2020-22) would pilot the renovation of customs checks and in the second phase (from 2023 onward), the focus would be placed on reviewing and amending laws as well as merging quality control agencies into customs.
A representative from the Ministry of Industry and Trade proposed founding a working group to boost the efficiency of customs checks reforms. — VNS

Vietnam's active participation in multilateral and bilateral trade agreements created a pathway for improvements in the country's business environment and support local enterprises to grow.

The Prime Minister has given instructions to fight against origin fraud and illegal transshipment to protect brands and the prestige of Vietnamese goods.