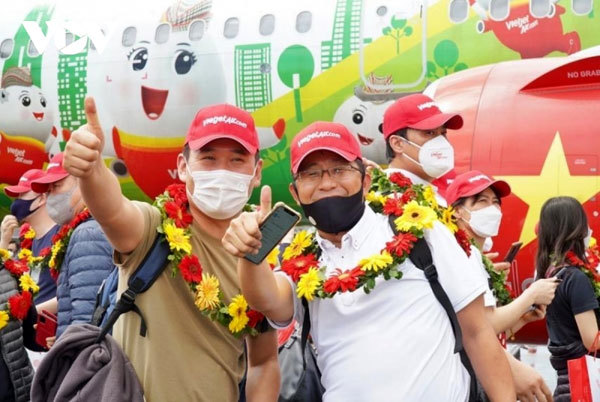 Vietnam is expected to reopen its door to international tourism in April, but experts suggest the plan should be implemented in February.
The country has welcomed more than 8,500 foreign visitors with vaccine passports from various markets such as Japan, the Republic of Korea, Russia, and the United States under a pilot scheme that started in mid-November, 2021.
The pilot scheme yielded positive results, laying a firm foundation for the tourism sector to welcome back foreign travelers in the near future, said Nguyen Trung Khanh, director of the Vietnam National Administration of Tourism.
Khanh added that the Ministry of Culture, Sports and Tourism is working closely alongside relevant ministries and agencies in a bid to supplement and issue complete guidelines on COVID-19, with the primary aim to receive international tourists at the earliest possible time. 
Early reopening the border
Dinh Viet Son, deputy director of the Civil Aviation Authority of Vietnam, pointed out that Vietnam has now reopened flight routes to the US, Japan, the Republic of Korea, Singapore, Thailand, Cambodia, Laos, and Taiwan (China). In addition, it is currently negotiating with other countries such as the UK, France, Germany, and Russia.
He suggested that the Government reopen its borders to air travel sooner than April or May as scheduled, particularly as Vietnam is set to play host to the 31st Southeast Asian Games (SEA Games) in May.
"We should open the door just from the beginning of February, because we have fixed flight schedules to our important markets like Europe and Northeast Asia," said Son. "The Civil Aviation Authority of Vietnam is considering increasing the frequency of flights to licensed destinations, meaning we will have a lot of flights on the horizon."
Echoing Son's view, Truong Gia Binh, head of the Private Sector Research and Development Board (Board IV), noted that whether or not Vietnam opens to international tourists does not change the nature of the pandemic locally.
"What we have done over the past two months shows the implementation of the pilot scheme has not affected local pandemic control," said Binh.
According to the expert, in the event the country does not reopen to international tourism, it will go against the Government's economic recovery policy that will eventually impact the employment of more than 2.5 million workers, and deal a heavy blow to other economic sectors. In addition, it will cause the country to lose out on major opportunities, not to mention the ailing health of travel businesses. 
Removing bottlenecks
Besides speeding up the opening of international tourism, the aviation representative also suggested that authorities create greater convenience for international visitors. He stated that along with negative PCR COVID-19 test certificates, the COVID-19 rapid testing requirement for passengers before departure and after arrival at airports is causing difficulty for both airlines and passengers.
"Only a few regular international flights have resumed, leading to congestion at international arrival terminals at Noi Bai and Tan Son Nhat airports. We wonder how the problem will be resolved if this policy is maintained when more regular international commercial flights are allowed," said Son.
If rapid testing is still to be required, Son suggested that it should not be held at the airport, but rather in localities where passengers are scheduled to arrive and stay as part of their package tours.
Source: VOV 

The Government has officially approved the Ministry of Culture, Sports and Tourism's proposal to host the 31st Southeast Asian Games (SEA Games) in Vietnam from May 12-23, 2022.

The market is completely new after Covid-19. All players, small and large, will be at the starting point. Those who have a good start will obtain more market share.