Vietnam touted as top agricultural producer but farmers still poor
VietNamNet Bridge – Vietnam is a top global producer of many agricultural products, but the farmers don't pocket as much money as people think.
VietNamNet Bridge – Vietnam is a top global producer of many agricultural products, but the farmers don't pocket as much money as people think.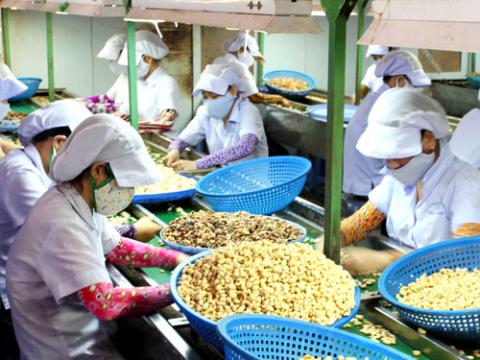 Vietnam, for example, is considered a "giant" in cashew nut exports. Its cashew processing industry is described as "powerful" with 465 production workshops with have the total capacity of one million tons per annum.
This year, the country plans to export 180,000 tons of cashew nuts worth $1.8 billion. If counting the exports of by-products and processed products, export turnover could reach $2.2 billion.
However, the director of a Binh Phuoc-based cashew nut company said the profits of the Vietnamese cashew industry are no more than 10 percent of total turnover.
The modest profits are attributed to Vietnam's heavy reliance on raw material imports, making it difficult for Vietnamese enterprises to control production costs and sell prices.
In 2011, Lafooco, a well known cashew-nut processor, incurred a major loss of VND152 billion because it imported raw cashew nuts from Africa at high prices and then exported at a loss of VND12,000 per kilo as world prices suddenly dropped.
Total profits from the company's 2009-2011 period were under VND116 billion.
The Vietnamese cashew industry, with high turnover, but low profits and a weak foundation, is described as a "giant with clay feet".
Vietnam is also the biggest rice exporter in the world, with 6.74 million tons of rice exported in 2013 and 7.2 million tons in 2014.
However, despite high export volume and high export turnover, Vietnamese farmers remain poor and many of them are considering giving up farming.
There also exists a big gap between Vietnam's rice export prices and world prices.
With the average export price of $400-450 per ton, which is $50-75 per ton lower than Indian, Pakistani and Thai prices for the rice of the same quality, Vietnam is believed to have the cheapest supply source.
In mid-2013, Vietnam even offered to sell its five percent broken rice at $365 per ton.
Cassava, rubber and coffee – the other top Vietnamese farm produce – are also called "giants with clay-made feet".
In 2013, Vietnam exported 1.1 million tons of rubber and reaped $2.5 billion. The figures represented a 5.2 percent increase in export volume and a 12.9 percent decrease in value. The sharp rubber price falls caused the rubber industry to suffer.
Export markets
Dr. Nguyen Van Nam, a renowned trade expert, commented that the biggest problem of Vietnam is that it "puts all of its eggs in one basket", i.e., it relies too much on certain export markets.
And if the markets stop importing Vietnamese farm produce, Vietnamese businesses and farmers will suffer.
"Vietnamese have been bargaining away rice, cassava, rubber and coffee to China, an easy-to-please market which always buy products in large quantities," Nam said.
"China could possibly control the market in the future, and then would be able to determine Vietnam's selling prices," he warned.
Dat Viet