Vietnam wants top environmental workers

Vo Tuan Nhan, Deputy Minister of Natural Resources and Environment, speaks on Vietnam's resolve to improve human resources in the environmental sector.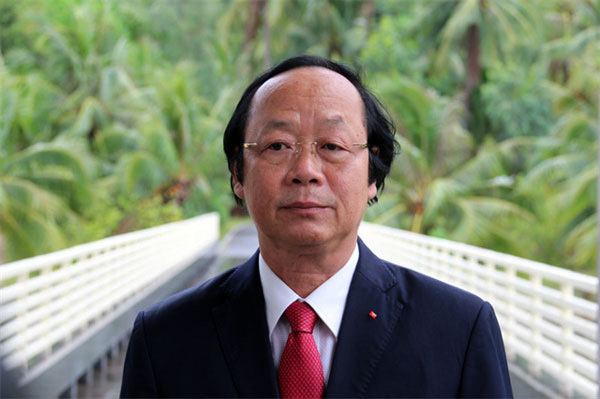 Vo Tuan Nhan, Deputy Minister of Natural Resources and Environment.
Do you have any comment on human resources training in the environmental sector?
At present, the natural resources and environmental sector has employed more than 51,000 Government officials, public employees and general workers, of which 1,000 are public employees and 10,000 civil servants. In addition, all industrial parks, State-owned economic groups and general corporations have their own staff working in natural resources and environment alongside the national environmental police.
Besides, the Ministry of Natural Resources and Environment (MONRE) has paid attention to completing the legal framework and training documents for all its staff nationwide. The MONRE has six training centres which specialise in human resources training and in the natural resources development and environmental protection sector.
In addition, the MONRE has also worked closely with provincial Departments of Natural Resources and Environment nationwide to hold many training workshops for local civil servants to improve their skills both inside and outside the country.
What are the difficulties in personnel training work?
The MONRE has paid special attention to the work of personnel training and has gained many successes in running courses.
Prime Minister Nguyen Xuan Phuc has approved a training proposal from 2016-2025 for cadres and staff working in environmental protection. The ministry has also run two universities and three institutes for further training of university graduates nationwide. We hope these universities and institutes will be good venues for training high quality human resources for the management of natural resources and environment.
However, the MONRE has still faced challenges in human resources training. We still face many challenges in running courses for our staff, as until now we don't have a uniform set of economic-technical norms for use in all training courses.
We also need a good mechanism and policies to encourage all staff to continue studying, either by themselves or attending official training courses to improve their professional skills.
Does the MONRE have any plans to improve the professional skills of its staff?
We have two universities and three institutes which offer courses for post graduates specialised in natural resources and the environment.
The MONRE has also established a network of training establishments which are specialised in natural resources and environment and has set up a training school for staff nationwide to improve their professional and management skills. However, investment allocated for this task is still limited, in terms of infrastructure, teaching and learning facilities and equipment.
Has the MONRE adopted any plan to improve its human resources?
To improve the quality of our human resources, we have to pull our efforts to implement the development strategy and vision by 2035. We have set a target that by 2025, the University of Hanoi Natural Resources and Environment will become a key national centre in human resources in natural resources and environment for the country.
Among other tasks we'll do is develop mechanisms and policies for human resource within the sector.
We'll try to foster and develop a contingent of elite lecturers and trainers so they will be able to transfer their knowledge to other people.
We'll also do our best to expand our international co-operation with friends far and near and learn from their experiences to apply them in Vietnam.

Vietnam needs to adjust the Support Program to Respond to Climate Change (SP-RCC) to better suit the current situation, Dr. Michael Parsons, policy adviser of Vietnam's Ministry of Natural Resources and Environment said.

Vietnamese and Danish lawmakers and experts talk about barriers that Vietnam has faced in energy transition to reach sustainable development goals, experience from Denmark and the two countries' partnership in the field.  

Vietnam's membership in free trade agreements is expected to bring big economic development opportunities to Vietnam. However, experts have warned of the challenges Vietnam will face as it has to observe commitments on environmental protection,
VNS/TNMT