The Central Economic Committee (CEC) on November 25 in collaboration with the Vietnam Academy of Science and Technology organized a workshop on the development of the materials industry by 2030.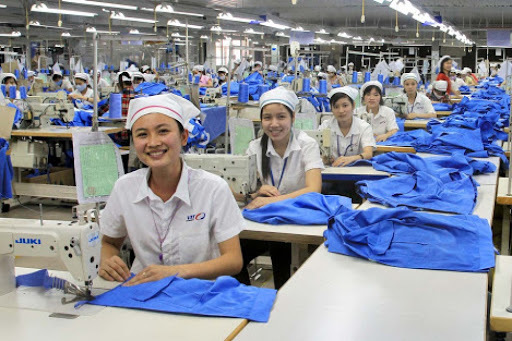 Vietnam has to import 90 percent of fabric needed for the textile and garment industry
CEC's Deputy Head Cao Duc Phat stressed that developing a materials industry is an important issue for all countries, especially ones promoting industrialization and modernization, and integrating more deeply into the world economy.
"We must not import nearly all input materials for industrial, agricultural production and other fields. If we continue to do this, our production costs will be higher than our rivals and Vietnam will turn into an outsourcing economy," Phat said.
When the world market fluctuated because of Covid-19, the enterprises relying on import materials faced serious difficulties.
"in order to build an economy with high competitiveness, it would be better to be self-sufficient in materials," Phat said. "The materials need to be as good as import materials or better than import materials, and they need to be cheaper."
MOIT also pointed out that one of the 'bottlenecks' which hinders industrialization is weak material production.
As a result, enterprises have to import materials for domestic production, which leads to high production costs of products and weak competitiveness. This also explains why domestic production is not autonomous and heavily depends on foreign value chains.
"The disruption of the material supply chain recently because of Covid-19, which made domestic industries suffer, is obvious evidence," MOIT's report said.
According to MOIT, Vietnam's material production capacity is still small with limited productivity and quality. The localization ratio in the materials serving the manufacturing industry remains low.
Vietnam has to import 70 percent of chemicals needed for plastics and rubber production, and 90 percent of fabric needed for the textile and garment industry.
Vietnam is rich in natural resources, but the mineral reserves are small compared with the rest of the world. Only some have relatively large reserves, such as oil and gas, coal, bauxite and titanium.
Most of Vietnam's mineral resources have been exploited over many years. The reserves of gold, silver, copper, lead, zinc and tin are predicted to run out in tens of years.
The natural resources with large reserves such as bauxite and titanium have been exploited, but just at a low processing level, which explains why the added value from ore mining and processing is still modest.
Phat said that first of all Vietnam's science and technology needs to focus on researching and developing materials based on existing resources. It is necessary to find the technologies most effective to exploit and process bauxite, tungsten and titanium. 
Luong Bang

Vietnam's underdeveloped fabric production is making it difficult for textile and garment businesses to take advantage of free trade agreements, including the Europe – Vietnam FTA (EVFTA).

Many Vietnamese textile and garment products may face safeguard duties in 2020 from the Eurasian Economic Union (EAEU)