Ambassador Dang Dinh Quy, Vietnam's Permanent Representative to the United Nations, on June 9 called on the Sudanese government to strengthen its capacity to protect civilians and take measures to address violence between communities in Darfur.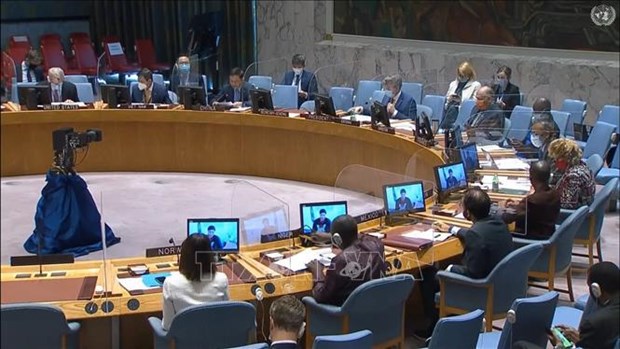 Participants at the meeting (Photo: VNA)
Addressing a meeting of the United Nations Security Council (UNSC) on the situation in Sudan which saw the presence of International Criminal Court (ICC) Prosecutor Fatou Bensouda, Ambassador Quy welcomed recent positive developments in Sudan, and hoped the Sudanese government to continue accelerating the transitional process to ensure the full, equal and meaningful participation of women in accordance with the Juba Peace Agreement on October 3, 2020.
He highlighted that the country needs to take the leading responsibility in ensuring the observance of international humanitarian law, and preventing and punishing serious criminals.
Establishing accountability for violations of international humanitarian law and serious criminal acts must be carried out in line with the fundamental principles of international law, including respect for a State's independence and sovereignty, Quy said.
Representatives from UNSC member countries voiced their concern about challenges in this country, especially the economic and humanitarianism crisis, and increasing violence between communities in Darfur.
They called on the government of Sudan and the UN Integrated Transition Assistance Mission in Sudan (UNITAMS) to continue working closely in speeding up the transitional process there.
ICC Prosecutor Bensouda, who is also charge d'affaires ad interim of Sudan at the UN, affirmed that the transitional government of Sudan will continue to promote the transition process and ensure its responsibility to protect civilians in the country.
Ensuring justice in Darfur is one of the highest priorities of the Sudanese government, she said, affirming that the Sudanese authorities have full judicial capacity to handle violations of international humanitarian and human rights laws.
Participants expressed their support for the ICC's activities on the basis of Security Council Resolution 1593 (2005), and thanked efforts made by Prosecutor Fatou Bensouda, whose term will end at the end of June, while calling on the Sudanese government to fully cooperate with the ICC./. VNA