Vietnamese aviation market experiences competition rage

The Vietnamese aviation market has been recording double-digit growth in the last four years, but the growth rate is slowing.
The participation of many domestic and foreign investors is making the competition in the Vietnam's crowded aviation market stiffer for new entrants, even those with a strong financial base.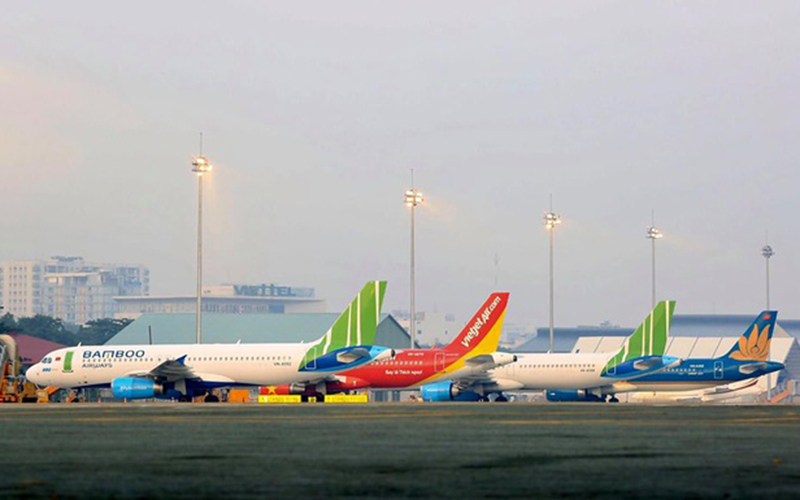 Growth of the Vietnamese aviation market is forecast to continue next years.
The market has recently seen conglomerate Vingroup abruptly withdraw its Vinpearl Air project and pull out of the aviation market, though it was slated for launching services this summer. The company still keeps a pilot training center operational.
Vingroup in July last year announced plans to enter Vietnam's skies with the establishment of Vinpearl Air Aviation JSC with registered capital of VND1.3 trillion (US$56.2 million), and the Civil Aviation Authority of Vietnam noted in August that Vinpearl Air had qualified.
Explaining the withdrawal, Nguyen Viet Quang, deputy chairman and CEO of Vingroup, said Vietnam's aviation market is growing and holds potential, but it also supports large companies that are already in operation.
"Heavy investment from Vingroup in the aviation sector might lead to oversupply," Quang said.
Experts agreed, saying Vietnam's aviation infrastructure is already stretched, with the current five commercial airlines expanding over the years to accommodate growing travel demand.
Associate Professor Nguyen Thien Tong, former head of the Aeronautical Engineering Division at Ho Chi Minh City University of Polytechnics, said that Vingroup's decision to step out of the aviation market is correct as it would have had to bear big losses, given that the market has adequate players now, serving different categories of passengers.
Tong explained that investment in the sector is a "long-term game," and it takes investors a long time to build customer trust and gain a firm foothold in the market.
He stated that many local airlines are not earning high profits. New entrants such as Bamboo Airways, in particular, should lower their ticket fares to acquire a larger market share. Therefore, over the long term, airlines without strong financial capacity will face difficulty in competition.
Double pressure
The Vietnamese aviation market has been recording double-digit growth in the last four years, but the growth rate is slowing. Reports from General Statistics Office showed that annual growth in the number of passengers carried by domestic carriers reached 30.3% in 2016, but fell to 11.3% last year.
The slowdown makes it difficult for carriers to make bigger profits. Vietjet's gross profit margin in the first nine months of last year was 14.24%, down from 15.48% in 2017, while the rate of Vietnam Airlines in the third quarter last year also dropped by almost one percentage point year-on-year, with costs rising faster than revenues.
Analysts from Phu Hung Security Company forecast that the country's aviation market will continue slowing down due to the falling number of international passengers while the domestic passenger market is plateauing out.
Along with that, the aviation infrastructure of the country lack uniform development, preventing the industry from further growing. The country's two international airports, Noi Bai and Tan Son Nhat, have been handling more passengers than their designed capacity in recent years.
In the near future, the number of passengers will continue to increase – albeit at a slower pace – while the capacity of the two most important airports will not. And the road infrastructure connecting to neighboring airports remains problematic. Therefore, the closure of these runways for repair or upgrade would heavily affect the operations of airlines.
In addition, there are new players diving into aviation, further increasing pressure on infrastructure. According to experts, the number of aircraft might reach 380 in 2023-2025, almost double the current 200.
Besides Vietnam Airlines, Vietjet and Bamboo Airways, other carriers waiting in the wings are  Vietravel Airlines of tourism company Vietravel, and KiteAir of hospitality firm Thien Minh Group. Hanoitimes
Anh Hong

Investors have noted that the number of aircraft in Vietnam is low compared with regional countries.

The latest figures published by the Civil Aviation Authority of Viet Nam revealed that the Vietnamese aviation market saw noticeable changes in 2019, driven by the participation of private carriers.