VietNamNet Bridge - To grasp the golden statue, Vietnamese cinema must have talents and this depends significantly on the training, but the Vietnamese movie "tree" is broken from the roots.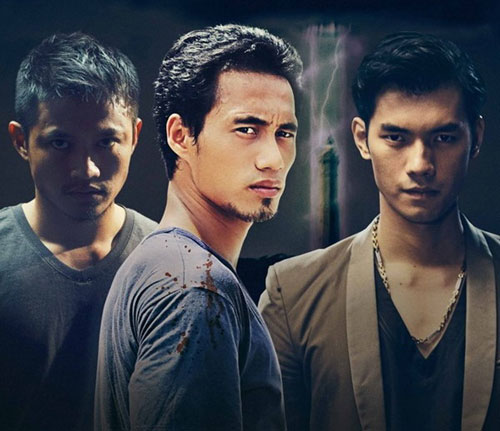 The poster of "Race Track," produced by actress Hong Anh's private studio, which aims to international film festivals.
The tree without roots
For years, Vietnamese cinema has forgotten to train film producers, audio and special effect professionals, makeup artists... Even the training of directors, actors, cameramen, scriptwriters, critics of cinema universities is unqualified.
"The professional film education in Vietnam still lacks a lot of things, even a standard curriculum which is the backbone for training," said director Phan Dang Di.
That's hard for cinematographic teachers, so they just teach in the way of telling their experience to students. Besides, there are no books on film theory, cinema studies in a systematic way. Vietnam is also in a severe shortage of film critic and intensive film history researchers. Training activities in the local cinema industry has long had no "base platform."
Also, the fact that director Bui Thac Chuyen pointed out is limited practical training in film schools. A student in France, after four years of study, has hundreds of short films while in Vietnam; the lucky one can make several short films.
While training in Vietnam cinema is in dire conditions, many filmmakers said that it is time to have support for the film study to study abroad. The best faces should be "tempered" in the professional environment to create a new generation of filmmakers who can catch up with the world.
But until now, this depends largely on the self-sufficiency of individuals, rather than state support. In the long run, training in the local movie industry, including all the jobs related to the field of film, should be rebuilt in a systematic way.
"If Vietnam does not think about it, then all goals are like counting crabs in holes ", said director Phan Dang Di.
When "benefactors" for cinema appear?
Director Le Bao Trung shared the sad story of his own: "Every time I made a film, I had to mortgage my house."
Initially, the director could only make market films to save money for artistic projects. In fact, the private studios prefer to invest in market films, for pure entertainment in order to easily recover capital while the film budget from the state is always in favor of the film for anniversaries and then put into stock.
The art films, with new experiences, expressed in new language, with the depth of thought - the works that can be sent to prestigious film festivals, are considered as an abandoned child.
The film industry is much in need of "investors" and the state's incentive policies. "We cannot have a powerful movie industry and excellent movies if nobody wants to invest in movies. The film industry and other creative fields need the contribution of the whole society," said director Phan Dang Di.
The road to the gold statue
While the international film awards like Oscars usually towards greater problems, global messages, the film selection committee of Vietnam usually choose films that meet criteria "imbued with national identity" to send to the Oscar Awards. So many movies with very old themes and old expression were selected just because they meet the criteria.
Many Vietnamese films that win international awards or were screened at international film festivals but they failed to get over the censorship door.
Phan Dang Di shared the story of the film that won an award at the Cannes Film Festival - Bi, Don't Be Afraid.
The full version of this film was screened for students in Germany, but in Vietnam, it was "labeled" 18+, but many "sensitive" scenes were cut while these scenes express the movie's idea.
The film "Lost in Paradise" by Vu Ngoc Dang was selected to screen at the Busan International Film Festival. Spectators who watched the full movie cried with emotion, but when it was screened in local cinemas, it was also cut a lot by censors.
Bi, Don't Be Afraid was "sponsored" by foreign producers so it could go to Cannes intact, but if it had to go through the censorship door at home, such a film would have not been approved.
Vietnam should learn from South Korea, that the idea of director Dao Ba Son. "I think filmmakers must go abroad. That is the lessons of Korean cinema. They began to revive from the late 1980s when hundreds of filmmakers went abroad for studying. In addition to good directors, good actors, we need to have good producers, who will help bring our movies to the world. Currently, there are a few private companies doing this work," Son said.
Director Charlie Nguyen talked about "the suffering" of dedicated filmmakers. "The majority of Vietnamese films are market movies produced by private studios. Because they invest money in these films, they had to try to recover capital. I myself would like to have VND20 billion to make an artistic film but nobody dares to give me that amount. So I cannot do what I want with my own film," Charlie said.
TN