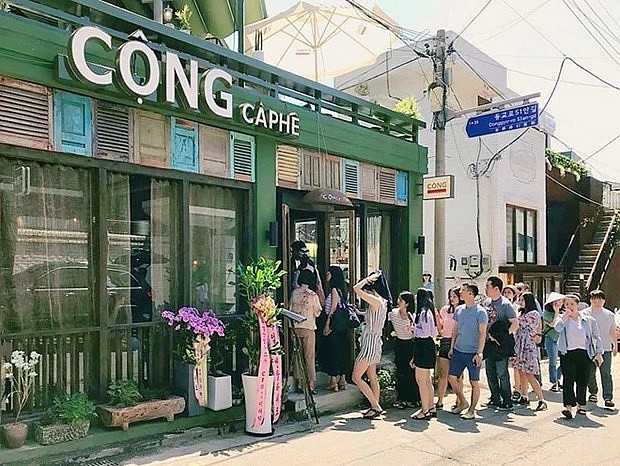 A Vietnamese coffee shop in the Republic of Korea (Photo source: cafebiz.vn)
Supporting start-ups in building coffee shops in the Republic of Korea (RoK) is among the recommendations by the Vietnam Trade Office in the RoK to help spread the Vietnamese coffee culture in this country, thus contributing to boosting the export of the product.
Statistics of the General Department of Vietnam Customs show that in the first two months of 2023, Vietnam earned more than 13 million USD from over 6,400 tonnes of coffee it shipped to the East Asian nation.
The RoK is assessed to be the world's second biggest consuming market of coffee, with the market scale of around 6.5 billion USD.
Vietnam mainly exports coffee beans, canned coffee and instant coffee to the RoK. The scale of this segment in the RoK is about 2.5 billion USD, while the scope of filter coffee used in shops is much larger, with 4 billion USD.
Vietnamese exporters should pay more attention to this market segment, according to the Vietnam Trade Office in the RoK.
However, they are facing difficulties in increasing the export to the Korean market, as Vietnam mainly ships Robusta abroad, while Koreans prefer Arabica.
In addition, Vietnam is also facing considerable competition from other producers like Brazil, Colombia, Ethiopia, and Guatemala.
This year, the office plans to carry out a wide range of trade promotion activities such as supporting Vietnamese firms to participate in trade fairs and expos in the host country, strengthening business linkages in both in-person and online formats, and helping in bringing Korean firms to Vietnam.
It also recommends Vietnamese localities, associations and businesses to carefully analyse the Korean market to define appropriate products and ensure quality requirements.
Source: VNA