Viet Australia organized a press conference recently introducing Nubone products, a brand of high-nutrient formula milk for children made by Lotte Foods of the Lotte Group.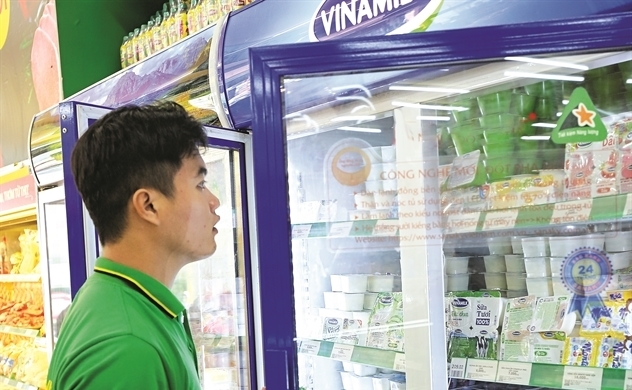 At the same time, VitaDairy Vietnam and PanTheryx signed a strategic cooperation on distributing ColoslgG 24h colostrum in Vietnam.

The two events show that the Vietnam dairy market is becoming busier. As Vietnam is a member of the CPTPP, Vietnamese dairy producers have to compete with imports from CPTPP countries. The zero percent import tariff on dairy products from New Zealand, Singapore and Japan has made products more competitive in price.

The General Department of Customs (GDC) shows that in 2010-2018, Vietnam imported $7.2 billion worth of dairy products, which means that Vietnamese consumers spend $890 million a year on dairy imports.

More and more foreign dairy producers have arrived in Vietnam as they can see the great potential of the market.
As Vietnam has signed an FTA with the EU, more European dairy brands are expected to arrive in Vietnam. However, analysts said foreign brands only have advantages in formula powdered milk, not in yoghurt and sterilized products because these products require cool storage, long time for transport, and high costs.

The EU will remove tariffs on Vietnam's dairy products after EVFTA takes effect. However, Vietnamese dairy producers cannot benefit from this because the EU still has not licensed the import of dairy products sourced from Vietnam.

The pressure from foreign dairy brands has increased, forcing Vietnamese companies to change their competition strategies. Tran Bao Minh, CEO of IDP, admitted that companies with powerful financial capability only need to spend 10 percent of revenue to run their marketing programs. This is equal to the annual revenue of small enterprises.

Hanoimilk has reported revenue increasing by 37 percent to VND40 billion in Q1 2019, but it still cannot overcome difficulties, and the post-tax profit was modest at VND166 million.

Ha Quang Tuan, chair of Hanoimilk, also said he can feels pressure from rivals which regularly run marketing programs with large budgets.

In such conditions, Vietnamese companies are planning to boost exports. Vinamilk, the nation's biggest dairy producer, has invested in the US, New Zealand, Cambodia, Poland, Laos and Myanmar and is seeking to expand to the EU, Africa and South America markets.
Meanwhile, TH True Milk is developing a $2.7 billion project on farming and milk processing in Russia.

Vinamilk and other exporters are targeting the ASEAN market as Indonesia, Malaysia, the Philippines and Singapore all have high import demand, $500-600 million a year. However, the leading market in the world is China, which imports $5 billion worth of products a year.
Thanh Mai

Vietnamese businesses are further participating in the global value chain and reaching out to the world market.

Vietnam-made dairy products, which have certain advantages in the home market, continue to be prosperous.