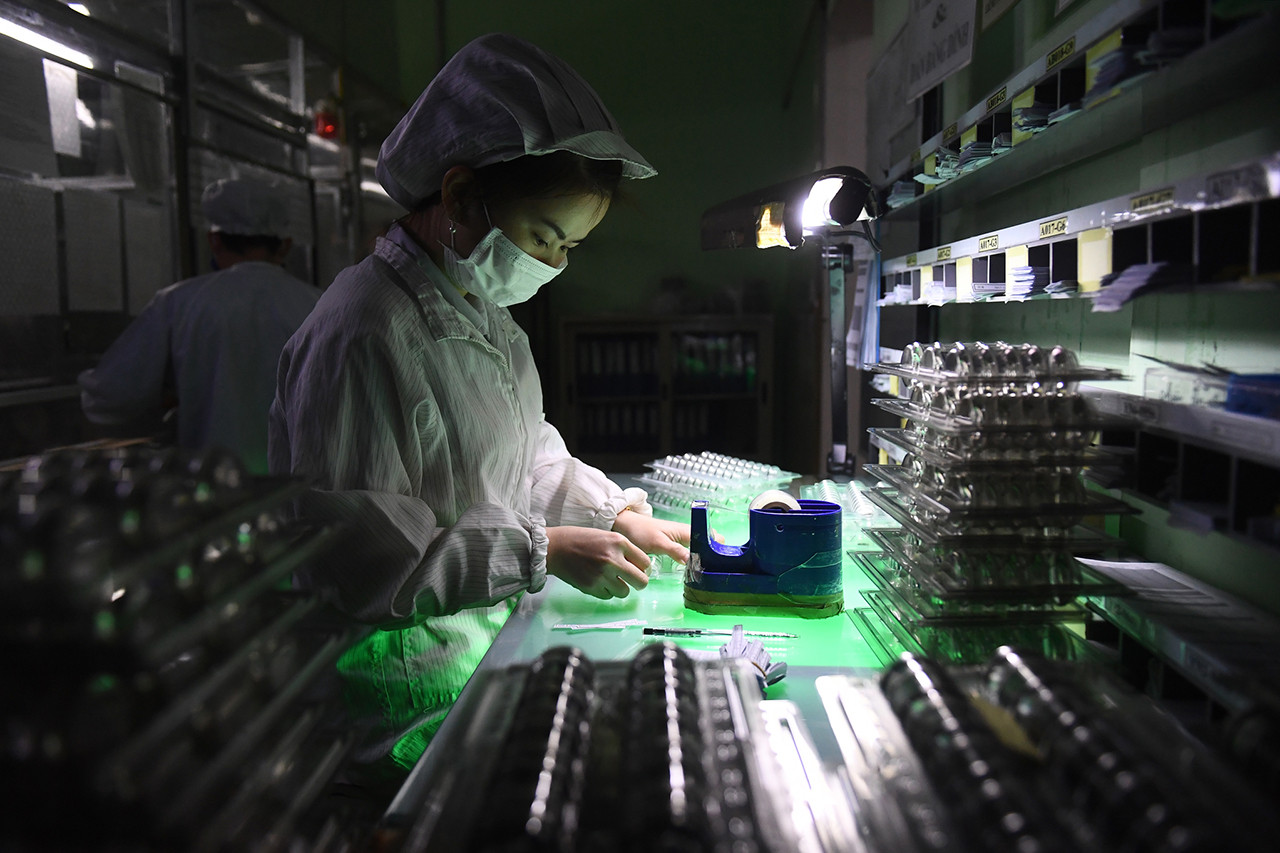 This assessment was released in the report "Vietnam February data" by HSBC Vietnam on March 9.
Vietnam manufacturing PMI rebounds
Despite persistant external weakness, the first two months of data shows a less severe picture than initially feared as the manufacturing PMI returned to the expansionary territory for the first time in four months. Meanwhile, trade also delivered some better-than-expected results.
Specifically, PMI rose to 51.2 points in February compared to 47.4 points in January this year.
However, the overall picture was not rosy, particuarlly as exports fell 10.3% on-year in the reviewed period, with ongoing broad-based weaknesses across major categories.
HSBC experts assessed that the country has been on the frontline of suffering due to the economic slowdown in the United States, who has long remained as the nation's largest exporting destination. That said, the only exception was phones and related parts, which saw annual growth of almost 8%.
Considering Samsung's smartphone release cycle, this can be put down to its launch of the flagship Galaxy S23 Series from 17 February, which enjoyed stronger pre-orders than its previous Galaxy S22 series.
However, the HSBC think tanks outline that a degree of caution is warranted due to the nation's manufacturing base being notably import-intensive, meaning it is crucial to look at how imports fared.
On a positive side, imports fell at a pace faster than exports, of 16.1% on-year. This has led to a trade surplus of US$2.3 billion, a much needed boost amid the country recovering from two years of current account deficit. However, electronics imports continued to fall, with phones particularly slumping over 60% on-year. This suggests that the electronics cycle will unlikely stage a quick turnaround soon, although recent global PMIs have pointed to some initial stabilisation.
Tourism industry continues to grow
In terms of the domestic front, retail sales continued to register solid growth. While growth in goods was substantial, services, particularly tourism-related services, continued to grow thanks to booming international tourism.
In February alone the country welcomed around 933,000 foreign visitors, a record high since the start of COVID-19 pandemic. Among them those from mainland China edged substantially higher, reaching 55,000. While this was only 10% of the pre-pandemic average of Chinese tourists, it was against the backdrop of limited flight frequency and an absence of group tours from the northern neighbour.
In addition, it is not just mainland China to watch for, but tourists from the Republic of Korea, another key market which has also held up firmly, with its monthly inflows recovering to around 85% compared to its pre-pandemic level.
While global trade of goods has slowed significantly, international tourism represent a supportive growth pillar, providing that some bottlenecks can be eased. Nevertheless, the road back to 2019's level appears to be a lengthy one.
Inflation remains major obstacle
While headline inflation moderated to 4.3% on-year in February, below the State Bank of Vietnam's (SBV) 2023 inflation target of 4.5%, some caution is needed after looking at the details.
Inflation momentum remained strong, growing at 0.4% on-month. Despite global commodity prices easing from their peak last year, energy inflation remains elevated. For one, domestic oil prices continued to edge up higher, duly pushing up transport costs. In addition, housing and construction material costs also rose substantially, partly reflecting higher gas and electricity costs.
Following a VND31trillion loss by SOE Vietnam Electricity in 2022, the nation moved to raise its electricity price range from 3 February by between 13.7% and 28.2% for the first time since 2017, which are key inputs for the Ministry of Industry and Trade to determine its retail prices for the year. While inflation may have likely peaked in January, elevated imported price pressures must be watched closely.
HSBC experts outlined that external data held up much better-than-expected in February. However, lingering weakness in exports continued to weigh on Vietnamese growth.
Moreover, although international tourists have bounced back to a record high level since the pandemic, the recovery path back to its pre-pandemic level may take time.
While headline inflation was moderate, underlying price pressures have not yet dissipated due to persisting elevated energy inflation.
Source: VOV