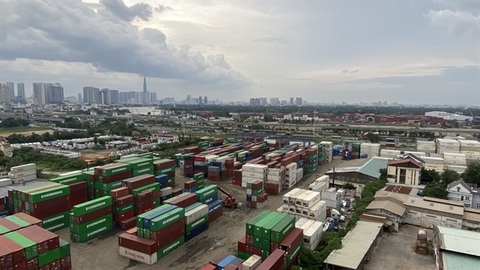 Viet Nam's economy is forecast to grow this year. — Photo baotintuc.vn
Viet Nam's economy grew quite slowly due to the impact of the COVID-19 pandemic last year, but many experts have said the country's economy is like a coiled spring, just waiting for the opportunity to bounce back.
Therefore, the Government has set a growth target of 6.5 per cent for this year, twice the growth rate of last year. This is a big challenge as the pandemic is still complex, there are many risks related to trade conflicts between major economies and global political instability.
However, Minister of Planning and Investment Nguyen Chi Dung said there were still many opportunities that Viet Nam could seize to grow strongly.
They include opportunities from new-generation free trade agreements (FTAs), opportunities from digital transformation, e-commerce and the formation of new industries and business models.
The minister said that Viet Nam could enjoy a high growth rate this year and in 2021-2025 if the country could fully utilise these opportunities and overcome the internal difficulties of the economy.
World organisations have also tipped Viet Nam's economy to speed up again after 2020.
The Asian Development Bank (ADB) forecast that the Vietnamese economy will grow by 6.3 per cent this year; the United Overseas Bank (UOB) predicted the economy to grow 7.1 per cent and HSBC even gave a figure of up to 8.1 per cent.
According to HSBC, Viet Nam's economy will benefit from the technology-led recovery and consistent foreign direct investment inflows.
Nguyen Xuan Thanh, a senior lecturer at Fulbright University Viet Nam, said with the above predictions, a recovery was expected from the second quarter of this year.
The country had signed new-generation FTAs ​​to expand economic space, he said.
This was very important for foreign investors, who believed in Viet Nam's potential and market, to continue to look to the country, he added.
Once capital flows had shifted to Viet Nam, it was inevitable the Vietnamese economy would bounce back, not only this year but also in the next five years, he noted.
According to investment funds, Viet Nam will be the number one destination in Southeast Asia this year, in which the leading role of capital flows is likely to belong to investors from Europe.
Although European investors approach development opportunities in Asia more slowly than the US and other countries in the region, they recently realised that Southeast Asia, the only region with 5 - 6 per cent growth (before the COVID-19 pandemic), gives them huge benefits.
Therefore, many private investment funds in Southeast Asia began to attract European money and a series of new funds in Southeast Asia with direct capital contribution from European investors have been established.
In addition, traditional investment from South Korea, Japan, Thailand and Singapore is also a lever to help Viet Nam's economy grow this year. These capital flows are continuing to pour into Viet Nam.
Meanwhile, some said the digital transformation that started last year would continue to be accelerated this year, opening up opportunities for the economy, especially domestic enterprises.
In addition, 14 out of 16 FTAs officially took effect, opening up large export markets this year, with 59 tariff lines reduced to zero, creating special conditions for agricultural, forestry and fishery exports. — VNS

The 13th National Congress of the Communist Party of Vietnam (January 25-February 2, 2021) is one of the most prominent political events this year.
Vietnam boasts multiple qualities for a night-time economy to grow, including a rich culture, superb foods, a young population and many deeply integrated cities.