These stories are no longer unusual to Vietnamese people. E-commerce not only helps farmers advertise their products easily but also helps them approach a huge source of customers. They just need to work with their fingers on smartphones to sell products to customers all over the world.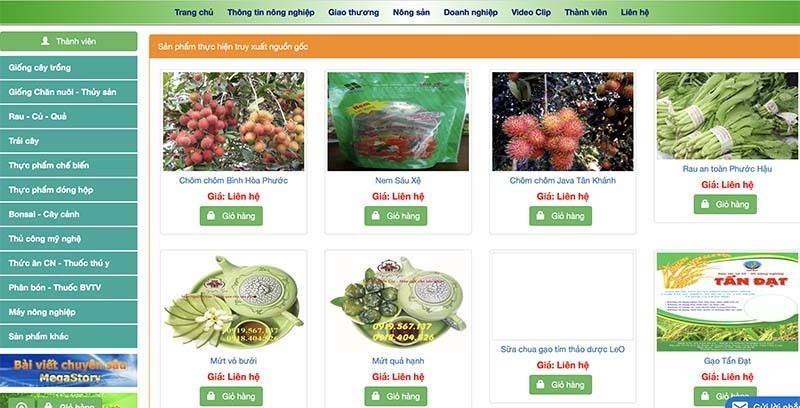 Adversity brings wisdom
When a merchant came to see Pham Van Khang, a farmer in Tuy Duc, Dak Nong province to ask for macadamia, Khang replied: "Macadamia runs out, you'll have to wait until the next crop."
Khang and his wife grow many different crops, from food to industrial crops, which can bring the income of VND2 billion a year.
He grows macadamia on an area of 10 hectares. When he began harvesting macadamia this year, the Covid-19 pandemic broke out, and social distancing was imposed, which lowered macadamia sales. The price plunged from VND100,000 per kilogram last year to VND60,000.
He had to buy a machine to dry and package macadamia for storage. Later, he tried to advertise his macadamia on Facebook and Zalo and sell products online.
"My wife and I both have smartphones, which makes the sales easier," he explained. "At first, the number of clients was modest, but has been increasing rapidly."
Thanks to online sales, all the harvested macadamia and unripe banana in his garden have been sold. He is happy as macadamia went for better prices than before the epidemic.
"Previously, when I sold products offline, the buyers were mostly from the same province. But when I displayed my products online, the clients can be from other provinces as well, including the Central Highlands, the south and the northwest," he explained.
Khang now just stays home to take orders and package products. Delivery firms come to his house to take away the products to deliver to customers.
Nguyen Thanh Tan, the owner of an eel farm in Vinh Long province, is also selling eels online. He said the development of e-commerce is inevitable in the context of IT development.
With the current farming scale, Tan can market 3 million breeds and 12 tons of commercial eels, valued at VND9 billion which can bring profit of VND3 billion.
Tan said 99 percent of his clients are 'online clients'.
In 2013-2014, Tan built a website of his own. At that moment, he mostly used his website to introduce his products, prices and eel farming techniques, and 'online clients' just accounted for 20 percent, because e-commerce was then underdeveloped.
In recent years, he began advertising and selling products on Facebook, Zalo and YouTube as well. This allowed him to enjoy large custom.
"I not only have domestic customers, but also Viet Kieu (overseas Vietnamese)," he said.
Marketplaces – new playing field
Tan admitted that eel breeds and commercial eels at his farm can satisfy only one percent of market demand. But he plans to scale up his farming.

An eel farm of an older man brings turnover of nearly VND10 billion a year, and 99 percent orders are online. Another farmer sold 26 tons of rambutan by contract after putting goods on online sale.
It is expected that the number of breeds will increase to 10 million and the commercial eel output to 100 tons. If so, the total revenue would be VND35 billion and the profit VND10 billion.

He also plans to expand his sale to marketplaces to approach more potential customers.
According to Tan, Vietnamese farmers are very good at production, but the sale is unstable and merchants always try to force the prices down. When making transactions on trading floors, they will be able to more easily find customers, and therefore, their products can go for better prices.
However, he admitted that it is not easy for farmers to build and run websites.
"To facilitate the advertisements and sales, I need a team which gives technical support. On trading floors, if farmers can receive support in technique and delivery, everything will be much easier," he said.
In some localities, there are e-commerce sites specializing in farm produce. Local farmers are guided to join the marketplaces to be able to access large distribution channels.
Pham Thi Thuy, chair of Thuy Thuat Tea Cooperative in Thai Nguyen, said in July 2019, the cooperative put its tea products on sale on Voso, after the provincial farmers' association ran a program on introducing the marketplace.
Since then, Thuy Thuat's tea products have become better known to clients from other provinces, which helped increase sales.
Vo Van Be, director of Java Tan Khanh Cooperative has just begun the farm produce online trading floors. However, he admitted that everything is going well. He has just signed a contract on selling 26 tons of rambutan.
Meanwhile, an agriculture expert commented that the existing farm produce e-commerce sites have small scale and there should be a large-scale trading floor, professional and prestigious, where in addition to product advertisements, farmers would also receive support in marketing and logistics.
"The new playing field will have hundreds of sellers and millions of buyers," he said. 
Ha Duy

Flexible warehousing models that can help businesses optimise their storage are required amid the development of e-commerce, experts have suggested.

Despite Covid-19, online shopping in Vietnam has been growing steadily. Analysts believe that online sales will soar in the last months of the year.