VietNamNet Bridge – In years recently past, Vietnamese mainstream music, V-Pop, has made great leaps, even on other countries' shores with artists like My Tam and Thu Minh taking awards for the 'Best Asian Artist' at the annual Mnet Asian Music Awards (MAMA) in 2012 and 2013. The two singers kindled hope for Vietnamese music to receive acclaim internationally.
Singer Thu Minh receives the 'Best Asian Artist' awards
The first hopes
More encouragement has come from, young musician Nguyen Hong Thuan's signing of a contract with the Haera, Inc & KJ Entertainment company from the Republic of Korea (RoK). His ten top tracks such as Tim lai giac mo (Refind the dream), Bay sac cau vong (Rainbow) and Xinh tuoi Viet Nam (Beautiful Vietnam), are to be translated into Korean and heard in the country from where K-Pop rose.
The new music video (MV) from 365 Band entitled 'Get on the floor' has not only grabbed the youth of Vietnam but also was well-received in many countries after being played by Thailand's leading radio station Seed FM and also on Pop Asia TV – a popular TV channel in Australia.
Before 365 Band, Vietnamese/Australian artist, Thanh Bui's music was shown by Pop Asia TV after coming among the top 8 in the 2008 Australian Idol singing contest.
Now to France; Singer Tung Duong has collaborated with Nguyen Le, a Vietnamese/French artist and jazz master on an album entitled 'Doc dao' (Only way) which is considered an 'ideological' piece. Tung Duong has recorded duets with world famous Mezzo-soprano Julia Sarr and Malian kora player and singer Tom Diakite. The album will be released in the European country, where an extremely fastidious market can be found.
After creating a fever on domestic music forums and channels, singer Ho Ngoc Ha's MV 'Hay thu tha cho em' (Please Forgive Me) has been reworked for the young audiences of China, Thailand and Singapore and the region. Her performance on the Asian Music Stars programme in China August 2013 was the first step towards the world's music markets.
Out of all Vietnamese pop stars, critics peg My Tam to be the most successful currently with the plans to export the country's music abroad.
In 2006, she appeared on the cover of French magazine 'Match du Monde' as a new Vietnamese rock'n'roll star. After that, My Tam co-operated with the Korean music company Nurimaru Pictures to release an album entitled 'Vut bay' (Fly).
Then in 2010, My Tam was honoured as one of the 12 'Global Pop Sensations You've never heard of' by ABC News and her MV 'Danh thuc binh minh' (Breaking the Dawn) which she composed and directed was broadcast on MTV Asia.
Success continued and in 2012 she became the first Vietnamese artist to sign a co-operation contract with YouTube. In addition to winning the Best Asian Artist Award, she was also the only Vietnamese singer shortlisted for the Best Worldwide Act category at the 2013 MTV Europe Music Awards and also for the World's Best Female Artist at the 2013 World Music Awards.
Almost achieved the dream
Many years ago, V-Pop artists pushed hard to introduce their work to international friends including musician Tuan Khanh who helped the girl-band Trio 666 appear on Italy's Rai television; singer Kasim Hoang Vu co-ordinated with his partner from Thailand to share his MV at MTV Asia and pop diva My Linh released an album to the Japanese market.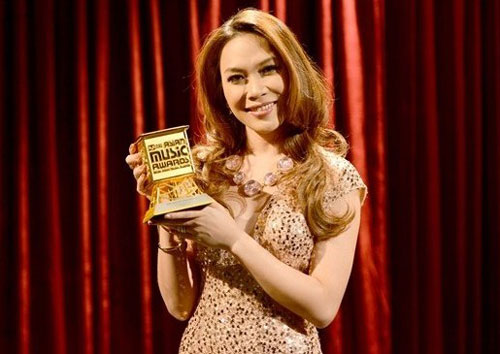 Pop singer My Tam.
Unfortunately, unsatisfactory technical standards and occasional poor sound quality, V-Pop is yet to touch global audiences.
Now, Vietnamese artists are stepping up their game and creating technically challenge and quality music. To keep up with world's MV trends, artists are co-operating with internationally experienced music companies. It could be said that My Tam's 'Vut Bay' video is proves the success of this kind of collaboration, as this video.
There have been a number of songs created by Vietnamese musicians, which have reached regional and international audiences, especially the songs of musician Thanh Bui. His compositions have been performed by world famous singers including Party in the City (by Jimi Blue), I won't hold back (by Arashi), Picture of you (by TVXQ) and Gravity (by Cherine Nourine) - a source of pride for Vietnamese music lovers.
Although the path to access friends in all five continents across the globe in order to share Vietnamese music is long and bumpy Vietnamese people could see their dreams come true soon.
Source: Nhan Dan