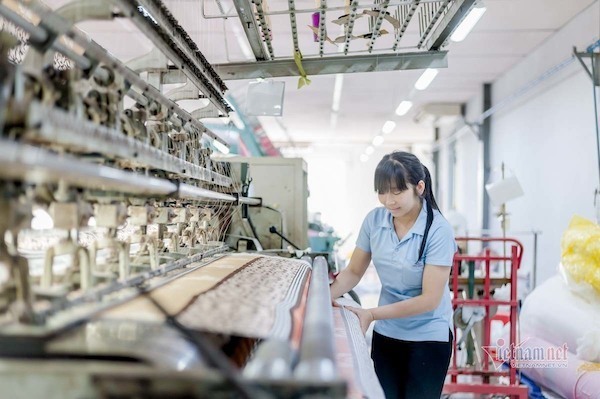 From real life…
Giang A Mia, a H'Mong ethnic minority man, arrived at the stopover station at the ThanhHai commune's head office in Thanh Liem district in Ha Nam province at dusk on October 8.
The man, together with others, has left Binh Duong four days before, driving his motorbike for 1,500 kilometers before reaching his destination.
A Mia returned to his hometown with no idea about what he would do to earn his living.
"I will go to the fields and to the forest. There's nothing else to do," he said, adding that income from this work will be much lower than VND100,000 a month, not enough to buy 5 kilograms of rice.
Chair of Thanh Hai Commune Tran Van Tham, who had been keeping watch at the stopover station for several months, said the station had received more than 8,000 people so far, with three groups of people arriving on one day and 12 groups the other day. About 95 percent of them are ethnic minority people from northern provinces.
Since the day HCM City and southern provinces lifted the 5-month long lockdown, there have been many groups of people leaving for their hometowns on motorbikes. Some of them headed for eastern and western provinces in the south, and many of them had to travel thousands of kilometers to mountainous provinces in the north.
HCM City estimated that 1.3 million people left the city for hometowns in the first half of October.
The General Statistics Office (GSO) has not released official statistics about them, but initial figures have raised the alarm about social security and an unprecedentedly high unemployment rate.

In Q3 2021, 23 provinces imposed lockdowns to prevent the pandemic spread. As many as 4.7 million people lost their jobs, including 1.7 million people who became unemployed, an increase of 532,200 over the previous quarter.
According to Pham Hoai Nam from GSO, as of September 15, about 1.3 million workers had left industrial centers in HCM City and neighboring provinces for their hometowns.
In Q3 2021, 23 provinces imposed lockdowns to prevent the pandemic spread. As many as 4.7 million people lost their jobs, including 1.7 million people who became unemployed, an increase of 532,200 over the previous quarter.
The income of laborers in HCM City decreased by half to VND4 million a month from VND9 million, the sharpest drop in the country.
"The lockdown lasted too long, which led to a high proportion of workers in the official job sector losing jobs," the official said.
When reporting the employment situation in Q3 and the first nine months of the year, the national statistical agency used descriptive instead of the usual neutral ones. It said the employment situation 'got worse', the unemployment rate rose to an 'unprecedentedly high' rate and the monthly income of laborers decreased 'sharply'.
… to National Assembly forum
Prime Minister Pham Minh Chinh reported to the NA that as of October 15, the Government had delivered financial support to 24 million people and had lent VND566 billion to businesses, so that 161,000 workers could be paid.
The Government provided 137,000 tons of rice to 2.4 million households with 9.1 million people in 31 cities/provinces, who suffered from the impact of Covid-19.
The financial support to people, as well as other relief support packages to businesses have helped but they are far from satisfying their basic needs.
A Government report said initial statistics showed that tens of millions of people need support. In HCM City alone, 7.5 million people received support over the last three support campaigns.
The fates of A Mia and millions of other redundant workers are just a part of the picture about the socio-economic situation of the country. Events have led to a minus quarterly GDP growth rate (-) 6.17 percent, the lowest in history since records have been kept.
The biggest problem, according to Cung, former head of the Central Institute of Economic Management (CIEM), is the decline in growth.
Retail turnover growth, for example, is decreasing; the PMI index in the processing and manufacturing industry is dropping sharply; public investment is decreasing; private investment is increasing slowly; the southern key economic zone is getting weaker; and the growth rates of GDP and business fields in the southern key region are lower than the north.
As such, with the GDP growth rate estimated at 3 percent this year and 2.91 percent in 20920, the GDP growth rates of two consecutive years will decrease sharply compared with yearly average rates. This would be the sharpest drop of the three periods of recession after doi moi (renovation).
"So, what are the possible missions for Vietnam to obtain the 6 percent growth rate target in 2021-2025?" Cung said.
Credit guarantee fund
Tran Dinh Thien, a respected economist, believes that it's necessary to set up a credit guarantee fund, and the State should act as a guarantor for businesses to get loans from banks.
He stressed that liquidity and businesses' capability of accessing new loans are the most serious factors for economic recovery. Businesses are getting exhausted, and they cannot satisfy requirements to borrow money from banks.
According to Cung, Vietnam has resources to support businesses. Its forex reserves total $100 billion, and it's easy to borrow money domestically. And international financial institutions have committed to provide loans to help Vietnam recover the economy.
Cung, at a meeting with Minister of Planning and Investment Nguyen Chi Dung, who is leading a team drafting the economic recovery program, suggested that Vietnam needs to accept the high state budget over-expenditure of 8-10 percent of GDP, or even higher, to create momentum for the economy in coming years. The figure would be roughly $30 billion, or 3.7 times higher than the $8 billion stimulus package in 2009. 
Tu Giang - Lan Anh

Economic experts say that for over 30 years of development, Vietnam has not yet built a strong team of private enterprises which play the role of a "launch pad" for the country's economic development.  

If all barriers are removed, Vietnam's GDP (gross domestic product) in 2021 may reach 2-2.5% in accordance with the optimistic projection.