Vietnamese people urged not to leave South Korea
The Ministry of Foreign Affairs have warned Vietnamese people living in South Korea not to leave the country if unnecessary to minimize the potential transmission of the coronavirus.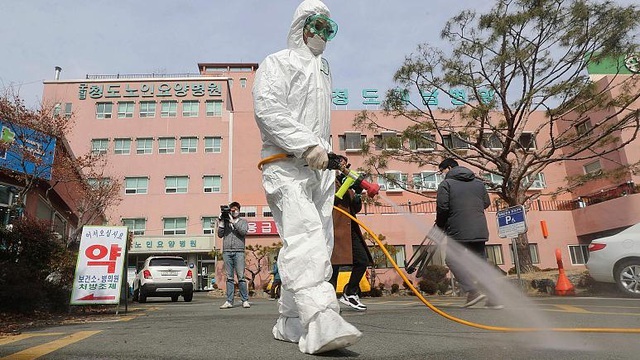 A health officer sterilises at a hospital in South Korea
In a notice sent to the Vietnamese community in South Korea on the evening of February 24, the ministry advised people to stay calm, avoid travelling and strictly follow instructions from South Korean authorities to protect themselves from the virus.
Starting from February 24, all incoming travellers from epidemic-hit areas including South Korea's Daegu City and Gyeongsangbuk Province shall be isolated for 14 days.
Around 200,000 Vietnamese people are living in South Korea, including up to 8,285 in Daegu City. They remain safe amid the coronavirus outbreak in the country.
The Ministry of Foreign Affairs has instructed the Vietnamese Embassy in South Korea to carry out measures to protect Vietnamese nationals from the spread of coronavirus.
According to the embassy, Daegu City is home to 8,285 Vietnamese, while 18,502 Vietnamese live in Gyeongsangbuk Province. To date, no Vietnamese person has been infected.
In case of emergency, they are advised to contact the hotline at the Vietnamese Embassy in South Korea on +82 10-3622-6618 or +84 981 84 84 84.
The Vietnamese overseas labour department in South Korea has also announced the phone number +82 103 248.
South Korean visitors to Quang Ninh high despite coronavirus
The northern province of Quang Ninh has received thousands of South Korean tourists per day in the context of coronavirus outbreak.
According to the provincial Department of Tourism, the number of South Korean visitors to Yen Tu tourist site has remained high over recent days. On February 23 alone, the site welcomed up to 1,869 South Korean travellers compared to just a few hundred people after the Tet Holiday.
Ha Long Bay has also seen a large number of South Korean visitors.
Le Trong Thanh, deputy director of Tung Lam Yen Tu Development JS Company, said the firm has arranged 10 fever screening machines and medicine cabinets long the main route of the site.
More doctors and nurses have also been sent to the site's medical stations.
Since early this month, nearly 10,000 masks have been given to the site's visitors free of charge.
Despite being adjacent to China, Quang Ninh has not yet detected any coronavirus cases. The province has tested 173 people with 172 negative, while the remaining person is waiting for the test results.
Quang Ninh has quarantined 1,184 people, including 875 who have already been discharged.
Dtinews/Nguoi Lao Dong

Travellers from South Korea's Daegu and North Gyeongsang will be quarantined for 14 days upon arrival in Vietnam, the Ministry of Health announced on Monday.

Those who enter Vietnam from the Republic of Korea (RoK) have been officially required to fill out medical declaration forms amid the increase of COVID-19 cases in the East Asian country, according to the Ministry of Health.