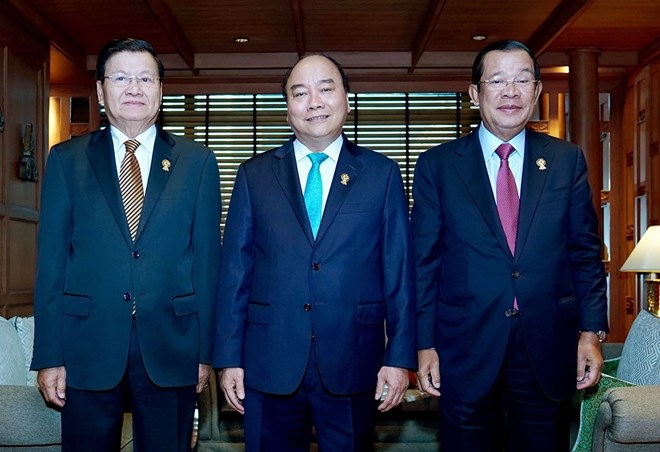 From left: Lao Prime MinisterThongloun Sisoulith, Vietnamese PM Nguyen Xuan Phuc and Cambodian PM Hun Sen before the working session in Bangkok on June 23 


At the event, the three PMs said they were happy to see thatVietnam, Laos and Cambodia have obtained solid socio-economic achievements, theliving standards of their people have continually been improved, and all ofthem are making efforts to reform and integrate into the world.

They noted with satisfaction that the close-knit friendshipand solidarity among Vietnam, Laos and Cambodia have been growing more and morestrongly, contributing to peace, cooperation and development in the region andthe world.

The three leaders agreed to enhance cooperation within theframework of the Cambodia-Laos-Vietnam (CLV) Development Triangle Area and theMekong sub-region and soon build a blueprint for connecting the threeeconomies. They underlined the importance of attracting financial and technicalresources for sub-regional projects.

They also agreed to strengthen cooperative ties to maintainborder security and promote trade, investment and border connectivity, whileaffirming the resolve to build the shared border into areas of peace,friendship and development.

PM Phuc affirmed that Vietnam will continue assisting Laosand Cambodia in manpower training and sharing its experience in socio-economicmanagement and development with the two neighbours.

The three PMs also consented to coordinate closely atregional and international forums, and promoting the building of a united,unanimous and resilient ASEAN that plays the central role.

PMs Thongloun Sisoulith and Hun Sen congratulated Vietnam onits election as a non-permanent member of the United Nations Security Councilfor 2020-2021 with a very high number of votes. They also promised to supportVietnam when the country holds the ASEAN Chair in 2020.

Also on June 23, the Vietnamese leader had a short meetingwith Philippine President Rodrigo Duterte. They discussed measures to reinforcethe bilateral relations and cooperation at multilateral forums.

On this occasion, President Duterte offered thanks to aVietnamese fishing boat for saving 22 Philippine fishermen in distress at seaon June 9. He affirmed that the Philippines will continue to treat Vietnamesefishermen humanely in the spirit of the traditional friendship and strategicpartnership between the two countries.
PM meets with overseas Vietnamese in Thailand
Prime Minister Nguyen Xuan Phuc on June 23 visited the Vietnamese Embassy in Thailand and talked with its staff and representatives of the Vietnamese community on the occasion of his attendance at the 34th ASEAN Summit.
Vietnamese Ambassador to Thailand Nguyen Hai Bang reported to the PM that the relations between Vietnam and Thailand are developing well in various fields. Two-way trade is likely to reach 20 billion USD in 2020, he said.
The diplomat said Vietnamese people in Thailand always trust in the Vietnamese Party and State's policies and they are serving as a bridge to connect the two countries.
Trinh Cao Son, chairman of the association of Vietnamese-Thai people, pledged to spare no efforts to build a strong Vietnamese community, preserve national cultural identities, and increase mutual understanding and friendship between the Vietnamese and Thai people.
After listening to the aspirations of overseas Vietnamese in Thailand, PM Phuc informed them the country's remarkable achievements in economy and politics.
While evaluating the relations between Vietnam and Thailand, he said the two countries are enjoying the best relationship in their history, adding that the rapport between the two PMs is deeply close.
PM Phuc said in his bilateral meeting with Thai counterpart Prayut Chan-o-cha on the sidelines of the 34th ASEAN Summit, the two countries' proposals were all taken in account and they agreed to hold the joint cabinet meeting at the year-end.
He asked the Vietnamese community to continue supporting one another in preserving their cultural traditions, particularly the Vietnamese language and script.
The Government leader encouraged them to facilitate their younger generations in studying to become researchers and scientists in a developed society.
He stressed that each Vietnamese should become a bridge attracting Thai tourists and investors to Vietnam and bringing Vietnamese goods to Thailand.
In the afternoon of the same day, PM Phuc and his entourage left Bangkok, concluding his trip to attend the 34th ASEAN Summit.
PM welcomes Thai groups to invest big in Vietnam
Prime Minister Nguyen Xuan Phuc has welcomed major groups of Thailand such as Thaibev, Amata and Siam Cement Group to make big investment in Vietnam.
At a reception for leaders of Thai groups having invested in Vietnam in Bangkok on June 23 on the sidelines of the 34th ASEAN Summit, PM Phuc suggested them expand investment in high-tech and environmentally friendly fields.
He affirmed that the Vietnamese Government will create all possible favourable conditions for Thai investors to successfully do business in Vietnam, especially in the realms of the Government's top priorities.
Vietnam will not receive foreign direct investment at all costs, but only welcomes high-tech, environmentally friendly and energy-saving projects, he stressed.
A leader of the beverage company ThaiBev asked the Vietnamese Government to support it to invest in other fields apart from beverages as well as increase its ownership ratio in the Saigon Beer-Alcohol-Beverage Corporation (Sabeco).
ThaiBev said it will respond to the Vietnamese Government's suggestion of investing in waste and plastic treatment, and environmental protection.
The Amata group's leaer wants to invest in building smart cities, while the Siam Cement Group said it will consider investment in high technology fields.
VNA