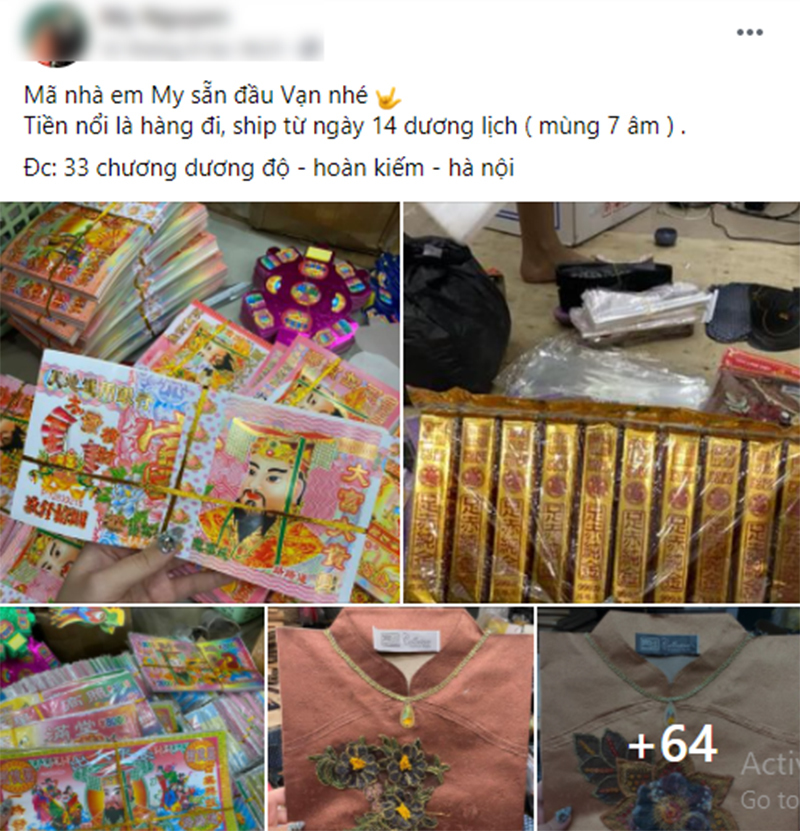 Votives offered on Facebook.
Mrs. Nguyen Minh Hang, a resident in Ha Dong district, Hanoi, told VietNamNet that she bought votive paper products for the upcoming Ghost Festival on online shopping groups on social networks and e-commerce sites.
Hang said since the 4th wave of Covid-19 broke out in the capital city in late April, she has shifted to online shopping. Once a week, she goes to a nearby traditional market or supermarket to buy vegetables or fresh food. For others, she places orders online and waits for her order to be shipped to her door.
This housewife said with VND150,000-VND300,000 ($6-13), she could buy all votive products for the upcoming full moon day, such as clothes, money, incense and candles. 
Mrs. Luong Thanh Thuy from Dong Da District, Hanoi, told VietNamNet that during social distancing, the time for shipping is longer, so she ordered votive paper products a week before the full moon day. Thuy also ordered fruit and traditional cakes online to prepare for the full moon day.
Meanwhile, the family of Mrs. Nguyen Thi Hoa, 65, in La Khe, Ha Dong district, this year is selling their votive paper products through phone calls, and social networks like Zalo and Facebook. Because of social distancing, she only sells products to customers who live in a radius of 1-3km around her home.
"For many years making votive papers, this is the first year my family accepts online orders from customers inside and outside my village," Hoa said. 
To purchase votive products, customers can call or leave messages on Zalo or Facebook pages of Hoa's family members. Hoa said that her sales this Ghost Festival have not been affected by the pandemic.
Ram Thang Bay in Vietnamese, also known as the Ghost Festival or Ullambana Festival (Vu Lan), is a traditional Buddhist festival taking place on the 14th to 15th of the seventh month in lunar calendar.
It is considered an occasion to give thanks and praise to parents and ancestors as well as to embrace the "wandering souls", in other words, the "forsaken spirits".
Regarding the occasion in Buddhism, many followers in southern Vietnam took the practice of pinning red or white rose onto their shirts some 40 years ago to express their sincerity and respect to their parents. So far, it has become a customary practice in Ullambana Festival.
Accordingly, those whose parents passed away wear a white rose to show their grief and nostalgia to the deceased persons while those whose parents are alive wear red rose to remind themselves of offspring's responsibilities of respecting and making their parents happy.
Besides, Ram Thang Bay is considered a taboo time according to the long-lasting traditional belief of the Vietnamese people that the gates of hell open from the 1st to 14th so that hungry spirits are free for a short time before returning to the fiery depths on the 15th.
Therefore, Buddhist followers and Vietnamese families often offer vegetarian meal including congee, salt, rice, among others and burn votive personal belongings and money to feed the destitute spirits or to help wandering souls find their way back home.
This kind of worship aims to avoid bad luck and bring peace to all family members.
Thao Nguyen

In the age of the Internet, buyers can sit at home and use the phone or the computer, and votive products can easily be brought to their houses.