Vietnamese seafood companies silently seeking foreign partners
VietNamNet Bridge – A series of the "big guys" in the seafood industry are planning to sell stakes to foreign investors, which is considered a good way to seek capital.
VietNamNet Bridge – A series of the "big guys" in the seafood industry are planning to sell stakes to foreign investors, which is considered a good way to seek capital.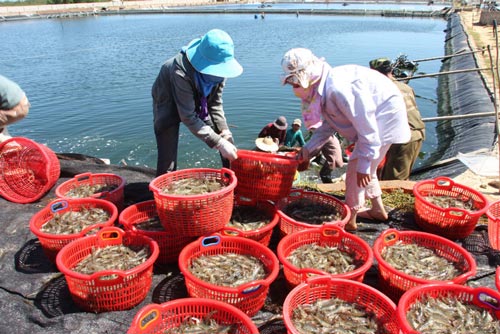 The Hung Vuong Seafood Company (HVG) said it plans to issue 30 million shares to a Singaporean partner at the price of VND30,000 per share at minimum.
Meanwhile, a senior executive of Minh Phu Group JSC has said Minh Phu – Hau Giang Seafood Processing Company Ltd (MPHG) where Minh Phu holds 90 percent of capital, would turn into a joint stock company after the issuance of 26.5 million shares. The share issuance would help raise the chartered capital from VND600 billion to VND866 billion.
Prior to that, Minh Phu refused the cooperation deal with a Thai partner CP Foods, despite the offered high share price at VND50,000.
Other seafood companies have also been looking for foreign investors. Go Dang JSC (AGD), for example, has sold 49 percent of stakes to foreign investors and announced the intention of delisting.
In early 2012, Cholimex sold 19 percent of its stakes to a Japanese partner, a food company.
According to Nguyen Huu Dung, Deputy Chair of the Vietnam Association of Seafood Exporters and Producers (VASEP), selling stakes is one of the measures taken by enterprises to seek capital. In general, enterprises only make public about the share sale after the deals are made.
While the other enterprises that make products for domestic consumption fear that their brands would disappear after they sell stakes to foreign investors, seafood companies do not suffer the anxiety.
Most Vietnamese seafood companies make products for export, while their products bear the brands of the importers.
Meanwhile, by selling stakes, enterprises can have more capital, access to modern production technology and corporate governance skills," Dung said.
"A lot of seafood companies are now small scale, which were the small aquaculture households or traders. For them, the presence of foreign investors in the companies which helps improve the corporate governance skills is really very useful," Dung said.
According to Dr. Dinh The Hien, a finance and banking expert, the seafood production chain is a global value chain, which comprises of the breeder production, feed, aquaculture, production, processing and distribution.
The Vietnamese seafood value chain is still low and Vietnam wishes to get involved more deeply into the chain. Therefore, Hien believes that the cooperation with foreign partners would bring the opportunities to Vietnamese companies to get higher added value in the chain.
Denying the worry about the possibility of Vietnamese businesses being swallowed by foreign investors, Hien said that selling stakes to foreigners is not a worrying thing, but should be seen as a good solution. Even the big economic conglomerates in the world also welcome the world's capital flow, let alone Vietnamese enterprises.
Nguyen Trung Thang, a branding expert, President of Masso Group, also thinks that it is necessary for seafood companies, the majority of which take loss and suffer from the exports decrease, to cooperate with foreign investors to improve their strength and recover their business.
However, Thang warned that seafood companies need to learn the lesson from the coffee industry. Investment funds, finance companies once bought shares in coffee companies, step by step controlled the enterprises, and then the industry before they controlled the market prices. This should not be repeated.
K. Chi