VietNamNet Bridge - A short film entitled "16:30" by young director Tran Dung Thanh Huy will be introduced at the Short Film Corner of the 2013 Cannes Film Festival.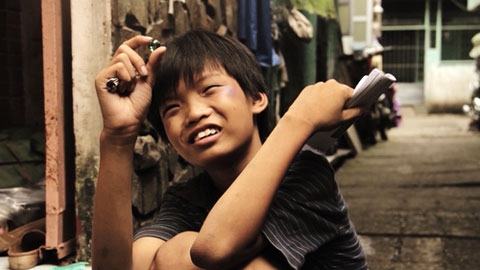 A scene from short film "16:30" by Tran Dung Thanh Huy.
The 17-minute long movie is the touching story about street kids selling lottery result sheets around the streets and alleys of Saigon at 4.30pm each day. The story is told with colorful images and a quick rhythm.
The five awards won at the YxineFF 2012 are the passport for young director Tran Dung Thanh Huy to the "Voyage A Cannes", a program to bring Vietnamese artists to the 2013 Cannes Film Festival. Thanh Huy will go to Cannes with actress and director Hong Anh.
Thanh Huy will meet with female director Jane Campion, the president of the Cinefondation and short film categories at Cannes 2013. She won the Palme d'Or Award in 1993 for "The Piano" and is the first female director nominated for an Oscar. Thanh Huy said he would ask her about the experience to move from short films to feature films.
The Cannes Short Film program is divided into short film competition and short film corner. At the short film corner, filmmakers have the opportunity to participate in many conferences and seminars with practical topics related to the film industry and to build relationships, facilitating the later film.
Last year, there were 88 countries with a total of 1,945 short films participating in the short film corner. Vietnam had a representative – director Nguyen Hoang Diep and her film "Monday Wednesday Friday".
Especially, at the event introducing the "Voyage A Cannes" on May 10 at the French Consulate in Ho Chi Minh City, French Vietnamese director Tran Anh Hung will be a guest. He won the Golden Camera award for his debut film "Scent of Green Papaya" at the Cannes Film Festival 1993. A day earlier, he will be at Megastar Paragon to introduce his latest film "Norwegian Wood" for young filmmakers and movie lovers.
Minh Chanh