Vietnamese spending on healthcare twice WHO's recommendation
Vietnamese people are paying up to 43% of total medical expenses, two times higher than recommended by the World Health Organization (WHO), according to Dr. Le Van Kham, Director of the Department of Health Insurance, Ministry of Health.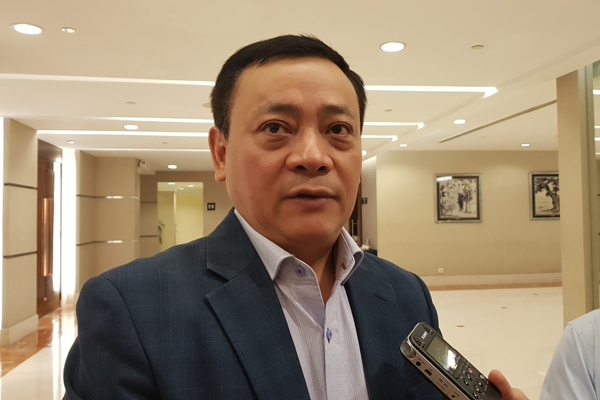 Dr. Le Van Kham, Director of the Department of Health Insurance, Ministry of Health. Photo: Thuy Hanh
Kham spoke on the sidelines of the seminar on financial mechanisms in health care on April 6 that nearly 91% of Vietnamese people have health insurance but they still have to cover up to 43-44% of the total medical expenses. This is a high rate compared to many countries in the world.
In developed countries, this rate is only 14%, and according to WHO's recommendation it is about 20%. High spending on medical treatment causes many families to become poorer.
On average, each Vietnamese is examined 2.1 times per year with an average expense of $129/person, of which 37% is for medicines. Vietnam ranks above Laos, Cambodia and Myanmar, but below countries in the region such as Indonesia, the Philippines, Thailand, and Malaysia in this regard. Thai people spend nearly $300/person/year while it is VND12 million for Malaysia.
"Our desired goal is that by 2025, healthcare expenses covered by households will fall to less than 35% and below 30% by 2030. However, this is a very big challenge," Kham said.
According to Kham, in order to reduce this rate, health insurance premiums should be higher to expand coverage and increase benefits for medical examination and treatment. If the premium is increased, it is necessary to control spending of healthcare insurance at hospitals. Currently, health insurance is paid based on the service fee.
Kham said that this method has the potential to increase costs because health facilities always try to provide more services to get health insurance money.
Therefore, from July 2021, the Ministry of Health will begin applying the payment method based on diagnosis, predetermining the amount of money for each diagnosis. This model has been piloted in Quang Ninh, Yen Bai, Can Tho, and it was very effective.
Ms. Nguyen Thi Kim Phuong, WHO's health finance expert, said that the health insurance fund of Vietnam is not being used appropriately. Increasing premiums is also a solution, but the proper use of services is also very important.
The health insurance fund of Vietnam annually spends about VND100 to VND120 trillion on medical expenses. Over the past four years, the revenue was always lower than expenditures, so the state had to use a reserve fund to maintain operations. Currently, the reserve fund has only about VND35 trillion.
Thuy Hanh

Vietnam's healthcare sector has taken on a number of policies to increase its attraction to both domestic and overseas private investors, thus enabling it to fulfill future goals.

Minister of Health Nguyen Thanh Long said from July 2021 the health sector will carry out medical examinations and treatment while reducing paper usage.