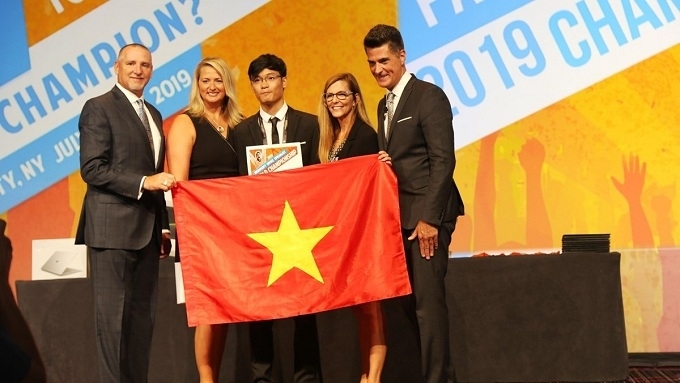 Vietnamese student Tran Hoang Anh receives the Microsoft Excel 2013 bronze medal at the 2019 MOSWC in the US. (Photo: VN+)
The information was announced by the organising committee of the MOSWC contest in Vietnam on August 3.
The final round of the 2019 MOSWC took place from July 28 to 31, attracting contestants from nearly 100 countries and territories around the world, including many IT powerhouses such as India, Japan, Singapore and the US, among others.
The competition offered only one set of medals (one gold, one silver and one bronze) up for grabs in each of the three categories: Microsoft Word 2013, Microsoft PowerPoint 2013 and Microsoft Excel 2013.
Vietnam was represented by three contestants, namely Nguyen Luu Hoang Anh – 2019 national champion in Microsoft Word (Dinh Thien Ly High School, Ho Chi Minh City), Le Khang Hieu – 2019 national champion in Microsoft PowerPoint (Doan Thi Diem Greenfield High School, Hung Yen province), and Tran Hoang Anh – 2019 national champion in Microsoft Excel (Foreign Trade University, Hanoi).
The MOSWC contest is the world's largest competition on Microsoft Office skills, organised by US-based Certiport for students aged 13-22 on a global scale. The event draws millions of participants around the world annually.
This is the 10th year that Vietnam has participated in the final round of the MOSWC. Since 2012, Vietnam has always won medals at the events and maintained its place in the competition's top ten teams.
The 2019 result has increased the number of Vietnam's MOSWC medals to 11 over the past 10 years, including one gold, one silver and nine bronzes. Nhan Dan 

The 18th Microsoft Office Specialist World Championship, which takes place in New York, USA on July 29-31, has announced Vietnam's leading telecom service provider Viettel as its premier sponsor.