Vietnamese, US officials talk economic, trade issues
Minister of Industry and Trade Tran Tuan Anh has held phone talks with US Trade Representative (USTR) Robert Lighthizer to discuss bilateral economic and trade issues.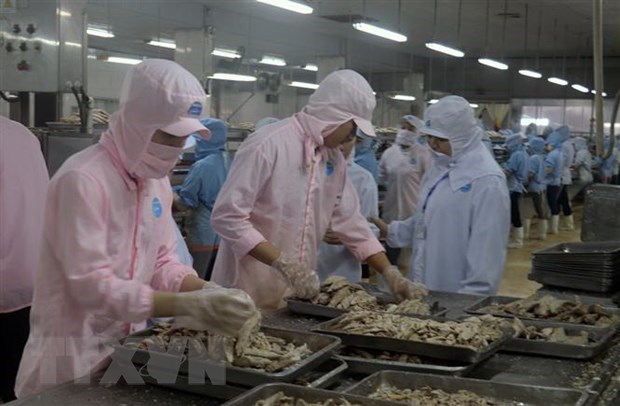 A canned fish factory in the Tac Cau Fishing Port's Industrial Park in Binh An commune of Chau Thanh district, Kien Giang province 
The two shared the view that Vietnam - US relations are developing strongly in all aspects, believing ties between the two countries, with the right development orientations, will continue to grow, with economic and trade cooperation being the main driver of bilateral links.
Minister Anh voiced his deep concern over the US officially launching investigations into Vietnam's monetary policy and timber imports and use under Section 301 of the US Trade Act of 1974.
This investigation could cause many unwanted effects that may not only harm bilateral relations, strategic trust, and efforts to enhance cooperation but also adversely affect thousands of enterprises and millions of workers and consumers in both Vietnam and the US, he held.
He affirmed the Government's view that Vietnam is a developing country with limited economic strength, and the governance of its monetary policy is meant to control inflation and keep macro-economic stability, not to create an unfair competitive advantage in international trade.
The purchase and sale of foreign currencies in the recent past was not intended to devaluate its currency but to consolidate its forex reserves, which are low compared to regional countries, so as to help enhance national financial and monetary security and the national credit rating, Anh stated.
Timber imports and use are now under strict management and meet every legal regulation, he went on.
With great respect for the laws of both countries, Vietnam is ready to work closely with and actively assist the US during its investigation, the minister noted.
He also asked Lighthizer to direct the USTR Office to conduct fair, thorough, and transparent investigations and carefully consider every issue and possible impact of any action in order to make the most objective and reasonable conclusions for the probes, thereby wrapping up the cases without imposing duties on Vietnamese goods.
For his part, the trade representative highly valued the outcomes of the recent substantive and effective policy dialogue via the TIFA Council mechanism, saying that in just a very short period of time, the two sides have discussed and sought solutions to many economic and trade issues.
Regarding the US launching probes under Section 301, he noted that the USTR Office is still in the investigation process and considering all opinions, and has yet to talk about any conclusions with Vietnam.
Baseless information regarding the USTR's plan to impose duties on Vietnamese exports is completely inaccurate, he declared.
Minister Anh said the policy dialogue via the TIFA Council mechanism has reaped a number of substantive outcomes recently and that under the Prime Minister's directions, leaders of Vietnamese ministries and sectors have actively coordinated with the US to deal with a range of issues and gained concrete outcomes, helping to strongly promote bilateral trade.
In the time ahead, ministries and sectors in Vietnam will continue their proactive cooperation with US counterparts to comprehensively address the concerns of both countries, thereby maintaining stable trade links and working towards a harmonious, sustainable, and mutually beneficial trade balance, he added./.VNA