VietNamNet Bridge – A new sport called 'tricking', which combines techniques from martial arts to acrobatics, is drawing legions of fans.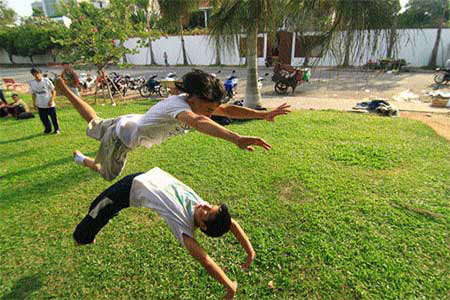 Tricksters: Vietnamese players train in HCM City. — File Photos
In spite of its recent appearance in Viet Nam, a strange but interesting sporting event called tricking is attracting much attention, especially among the young.
"In fact, tricking has been around in Viet Nam for about a year already," said Bui Van Hai, 39, one of the country's first practitioners of the sport. "It is a combination of numerous sporting events, with uninterrupted kicks and a lot of acrobatics."
First introduced to the world in the 1990s, tricking is a non-contact sport that is derived from martial arts forms such as karate, capoeira, wushu and taekwondo and incorporates techniques found in gymnastics, break dance and similar disciplines. The sport aims to create an aesthetic blend of flips, kicks and twists.
Hai said that in tricking, players were known to have found themselves, as well as freedom. "Unlike other sporting events, tricking doesn't tie down its players to any rules," he added. "It allows them to be as creative as possible and to make full use of all of their abilities."
The largest gatherings of trickers in Viet Nam can found in HCM City, where they usually train to do the spectacular moves identified with this sport in such places as Hoa Lu Stadium in District 1, Thao Dien Park in District 2, Gia Dinh Park in Go Vap District and Phu Tho Gymnasium in District 11.
The road to training
A majority of Vietnamese trickers found out about the sport through YouTube and Facebook. Their curiosity has led to much practice, with themselves and others, and the more experienced among them ended up teaching the newcomers. The practice of this sport is now gradually spreading among the Vietnamese youth.
"Once, I found a video clip on the moves of foreigners who were into this sport, such as flying, jumping, kicking and somersaults. After spending some time studying the moves, I found out that these were all part of the sport of tricking," said a player in HCM City.
"This sport has become a passion for me and has helped me to make vast improvements in the state of my health," said Nguyen Trong Dai, a group leader also in HCM City. "In the first days of training, our skills were unsound and we could hardly find a decent place to practise. We had to move around the city to find soft lawns to avoid injuries."
Dai admitted that tricking was difficult to practise. "It requires skillfulness and precision in every step because players found it difficult to control their speed while flying in the air."
"Players have to train very hard to fly," Dai added. "After many days of training, they found out that they can actually somersault, twist and fly. This was quite wonderful for them."
It usually takes a newcomer around one month to learn the basic techniques of tricking. However, players must be determined to take advanced training in the difficult techniques within one year.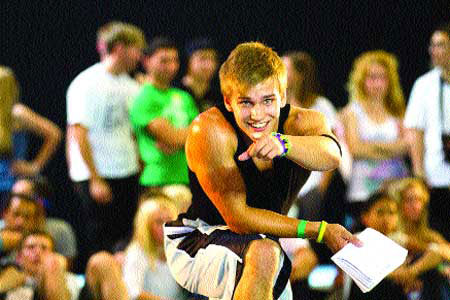 Trick king: Finland's Vellu Saarela, the "King of Tricking," is one of the world's most well known tricking athletes.
Moves in tricking are usually classified into four: overturning, twisting, kicking and style. New players are unable to handle style yet, as only veterans can create their own styles.
"We are very comfortable training and practising for this sport," a tricker in HCM City said. "The feeling of flying in the air helps us cast off the stresses and strains of modern life. However, trainers can suffer from injuries such as pulled thigh muscles, cracked ligaments and sprains."
Hai revealed that his group has trained separately in various places. After that, they sought each other out and organised a club in Phu Tho Gymnasium to satisfy their enthusiasm for tricking.
"Practising this sport is a way to keep off social evils. There are hundreds of trickers in HCM City now. Each player can call on his or her friends to train everyday," said Hai.
Hai also said that at present, a number of youngsters were learning about tricking with the aim of becoming cascadeurs.
Worldwide phenomenon
The world's first tricking championship was held in Las Vegas, the US on May 19, 2012, with 16 of best trickers from around the world taking part. The event marked the first time many of these athletes had actually met, trained and battled face to face.
By circulating videos of their routines on Youtube, trickers from around the world have begun to develop a tight-knit community based on the promotion of their new, unique tricks and identities, while also passing the craft on to others.
Gatherings have become a staple of the community. Using online tools like Facebook and the tricking forum Club540, trickers have organised local and international gatherings to provide a chance to learn, network and even compete with each other.
The global tricking population has grown to more than 10,000 people.
Finland's Vellu Saarela, the "King of Tricking", is one of the world's most well known tricking athletes, with countless trickers all over the globe watching in awe of his flawless blend of power, creativity and style.
VNS/VNN