Vietnam's 2019 trade surplus hits four-year record

The country's trade surplus reached a record high of US$9.9 billion in 2019, the General Statistics Office's monthly report has revealed.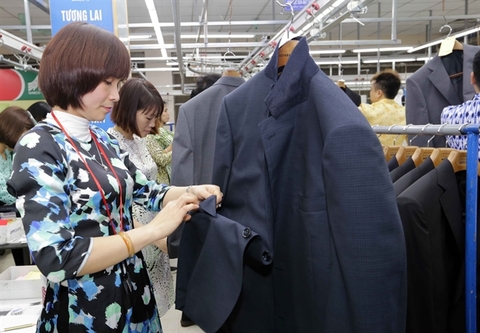 Suits are made for export at the Garment 10 Joint Stock Co in the capital city. Textile and garments are among six staples recording a high export value in 2019. 
This year's surplus was also the highest level seen in the past four years, after $1.6 billion in 2016; $1.9 billion in 2017 and $6.8 billion in 2018.
Notably, the nation's trade turnover surpassed the $500-billion mark for first time in 2019, witnessing the stronger growth of the Vietnamese-invested sector compared to foreign invested sector, according to the report.
During the year, overseas shipments earned the country $263.45 billion, up 8.1 per cent year-on-year and higher than the target set by the National Assembly and the government of 7-8 per cent.
The domestic sector contributed $82.1 billion, or 31.2 per cent, of total exports, up 18 per cent year-on-year, while the foreign-invested sector made up $181 billion, up 4.2 per cent year-on-year or 68.8 per cent of the total (down 2.5 percentage points year-on-year).
Six groups of goods posted an export value of more than $10 billion, including mobile phones and spare parts with $51.8 billion, up 5.3 per cent; computers and components ($35.6 billion or 20.4 per cent); textiles and garments ($32.6 billion or 7 per cent); machinery, equipment and parts ($18.3 billion or 12 per cent), footwear ($18.3 billion or 13 per cent) and wood and wooden goods ($10.5 billion or 18 per cent).
The US retained its position as the largest export market of Viet Nam with a turnover of $60.7 billion in 2019, marking a yearly hike of 28 per cent. It was followed by the EU ($41.7 billion), China ($41.5 billion), ASEAN ($25.3 billion), Japan ($20.3 billion) and South Korea ($19.8 billion).
From January to December, the country's import revenue experienced a modest yearly increase of 7 per cent, reaching $253.51 billion, the report said. It added imports mainly served export production at foreign-invested enterprises which accounted for 91.2 per cent of the total import value.
Goods categories reported a significant import turnover such as raw materials with $119.5 billion or 47 per cent of the total value; machinery, means of transport and parts ($111.7 billion, or 44 per cent) and consumer goods ($22.3 billion or 9 per cent).
China continued to be the largest import market of Viet Nam with total turnover of $75.3 billion, signifying an increase of 15 per cent. That meant Viet Nam had to face an all-time high trade deficit of $33.8 billion with its neighbour.
Meanwhile, Viet Nam's trade deficit with other markets such as ASEAN and South Korea experienced a slight decrease of 6 per cent at $27.5 billion and 3.2 per cent at $6.8 billion, respectively.
During a conference in Ha Noi late last week, Prime Minister Nguyen Xuan Phuc asked the Ministry of Industry and Trade to diversify the country's export markets to reach an export revenue of $300 billion in 2020.
"Diversifying export markets is important to reducing the risk of depending on a single or several markets," Phuc said.
He also announced a target of reaching a trade surplus of around $15-17 billion in 2020. — VNS