Vietnam's 50 best-performing firms announced

The list of Vietnam's 50 best-performing companies (Top 50) was announced by the Nhip Cau Dau Tu (Investment Bridge) magazine and Thien Viet Joint Stock Company in Ho Chi Minh City on June 27.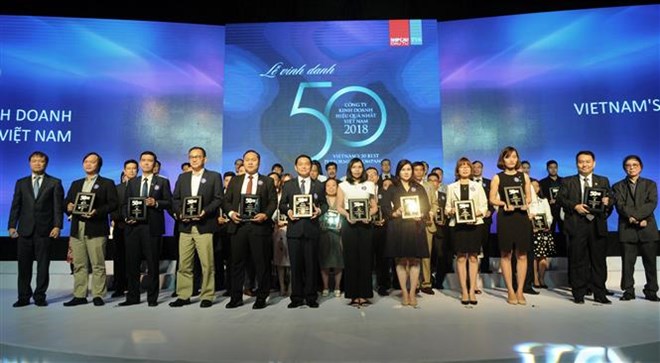 Vietnam's 50 best-performing companies are honoured.


The ranking was developed in line with international standard measure. It tookcounsel from many economists and business experts from Thien Viet JSC, VietnamInvestment Group, Vietnam Capital Partners, business experts from HarvardBusiness School and many prestigious organisations.

All of the honoured firms must be listed on the Hanoi Stock Exchange and Ho ChiMinh Stock Exchange, have market capitalisation from 1.5 trillion VND (64.4million USD). Besides, they must gain at least 250 billion VND in revenue, and25 billion or more in net profit in three consecutive years.

Remarkable companies on the list are The Gioi Di Dong (Mobile World) JSC, HoaBinh Construction Group JSC, Vietjet Aviation JSC, Phu Nhuan Jewellry JSC, andHoa Phat Group. They all gained impressive revenue, and net profit.

The Top 50 this year also honoured 17 outstanding firms with marketcapitalisation worth over 1 billion USD, including Vingroup, Joint StockCommercial Bank for Foreign Trade of Vietnam (Vietcombank), Vietnam DairyProducts Joint Stock Company (Vinamilk), Saigon Beer Alcohol BeverageCorporation (Sabeco), Vietjet Aviation Joint Stock Company, Masan Group and BaoViet Holdings.

Meanwhile, six businesses were glorified for being on the list for eightexecutive years, namely Vingroup, Vinamilk, Hoa Phat Group, Binh Minh PlasticJoint Stock Company, Vietnam Container Shipping Corporation and Hau GiangPharmaceutical Joint Stock Company.

According to Deputy Minister of Industry and Trade Do Thang Hai, the event isespecially important, particularly when the Government is encouraging thedevelopment of private sector.

The top 50 enterprises have made significant contributions to the nation'ssocio-economy while affirming their increasing competitiveness in the market,he added.

The annual ranking has beenorganised by the Nhip Cau Dau Tu magazine and Thien Viet Securities for eightyears. It is designed to evaluate and rank the listed companies with remarkableachievements in their fields of business through key financial indicators andencourage companies to pursue better corporate governance and strategicthinking, and recognise the business leaders who have demonstrated long-termvision and creative thinking.-VNA

Vietnam Report on Tuesday announced the 'Top 10 Vietnamese Commercial Banks in 2019' based on their financial capacity, reputation and customer satisfaction.  
Recently, the Asian Football Confederation (AFC) has set time for the Asian qualifiers draw of the 2022 World Cup second preliminary qualifying round.