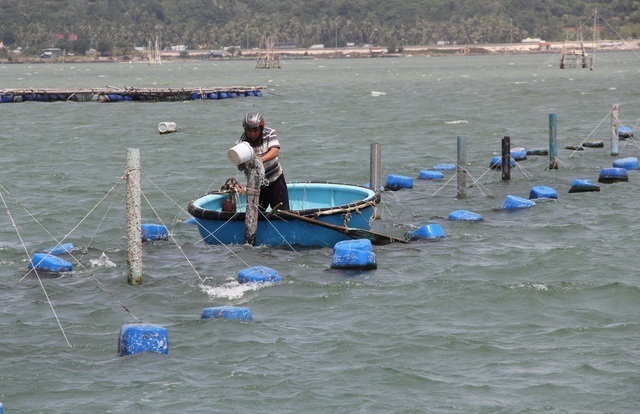 A report from the Department of Animal Health showed that 46,217 hectares of aquaculture area were damaged in 2020, or 1.9 times higher than in 2019.
The damaged brackish water shrimp hatchery area was 43,340 hectares, up by 1.94 times. The figure was 1,426 hectares for catfish, up by 5.76 times, which accounted for 25 percent of the country's total catfish farming area. In addition, 1,452 hectares of oyster and other fresh-water aquatic species were also damaged.
The farming area of infected shrimp increased by 7.4 percent over the year before, and the reasons behind the damage have not been identified in over 76 percent of the damaged area.
Meanwhile, the total damaged aquaculture area has reached 1,897 hectares so far this year, a decrease of 61 percent compared with the same period last year.
However, Deputy Director of the Department of Animal Health Nguyen Van Long has warned that the damaged area may increase sharply and the risk of epidemics is high in the time to come.
This has happened because farmers intensified cultivation while the weather conditions were unfavorable. Dangerous pathogens still exist in many farming areas, which can invade and cause disease to shrimp.
Besides, the adverse effects such as rising temperature, salinity, and extreme environment changes may cause shrimp to grow slowly and have weak resistance. Changing environmental conditions will create favorable conditions for pathogens to develop and cause disease to shrimp.
NAFIQAD (National Agro-Forestry-Fisheries Quality Assurance Department), has reported that since the beginning of 2021, 40 export consignments have been refused because of food hygiene problems, higher than 14 refused consignments in the entire year of 2020.
In the first two months of the year alone, 15 seafood consignments exported to China were refused, while the figure was only six in 2020.
Ngo Hong Phong, deputy director of NAFIQAD, said at the 2021 conference on aquatic epidemic prevention and control that some markets have regularly changed the procedures on certifying food safety for seafood exports.
Shrimp products that meet the requirements on heat treatment (cooked shrimp) will be exempted from quarantine in South Korea. However, the long heat treatment time will affect products (color, taste, etc...).
The South Korean market has set five additional five disease criteria for some kinds of seafood products. From August 1, 2021, export consignments to South Korea must be associated with quarantine certificate for these five diseases.
Deputy Minister of Agriculture and Rural Development Phung Duc Tien said Vietnam exported $8.5 billion worth of seafood products in 2020. The Vietnam Association of Seafood Exporters and producers (VASEP) predicted that the export turnover may reach $8.8 billion this year. 
Tam An
Last year has been a year with ups and downs for the seafood sector. While the consumption and export of basa fish stagnated mostly due to the global health crisis, shrimp farmers still saw a successful 2020.

The Taiwan Food and Drug Administration (TFDA) has announced a list of 697 Vietnamese seafood enterprises permitted to export their products to Taiwan, reported the Vietnam Association of Seafood Processors and Exporters (VASEP).