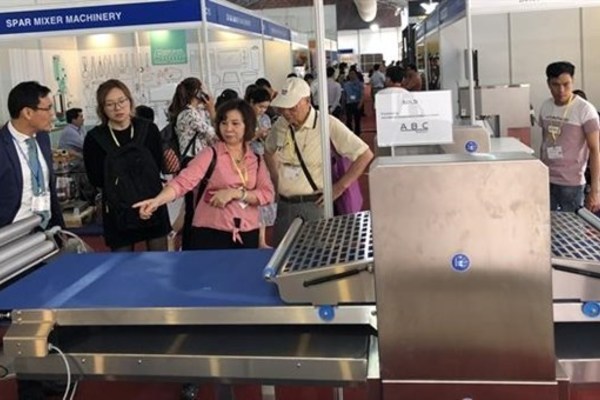 A pastry making machine on display at the Vietnam International Bakery Equipment Show that opened in HCM City on October 16
Kao Sieu Luc, general director of ABC Bakery, speaking to the media on the sidelines of the opening ceremony of the first ever Vietnam International Bakery Equipment Show on October 16, said Vietnam's bakery market is one of the fastest growing in the Southeast Asia region but has great potential to expand further.
The sector has embraced the latest technologies to remain abreast of global trends, he said.
At his company, 80 percent of the machinery are most modern and imported from the US, Switzerland, Japan, Germany, and France, he said.
Vietnamese bakery firms also export their products to many markets, he said.
His company's sales in the local market increased by 20 percent in the first nine months of the year, while exports to Japan, Australia and the US went up by 50 percent, with 150 containers of items of all kinds being shipped, he said.
Chou Cheng Hsun, chairman of the Taipei Bakery Association, one of the organisers, said Vietnam is considered one of the most promising bakery markets due to its large population.
The exhibition has attracted around 70 Vietnamese and foreign exhibitors including from China, Japan, Malaysia, the Republic of Korea, and Taiwan, who are showcasing their latest offerings at the show, he said.
Taiwanese chef Yung-Hsin Chen, who won the 2015 Mondial du Pain competition, will demonstrate various kinds of popular breads, share the secret of bread making and introduce new perspectives and insights into the Vietnamese baked goods industry, he said.
Several seminars will be held at the expo, including on "Bakery Trends in Asia," "Food safety assurance in bakery production, trading and consumption" and "Bakery and Vietnamese people's health".
Nguyen Quang Huy of the Ministry of Industry and Trade said the exhibition offers a good platform for stakeholders in the bakery industry to compare notes and seek business opportunities.
It also offers international brands a chance to introduce their latest technologies to the Vietnamese market, he added.
Organised by the Taipei Bakery Association, Chan Chao International Co., Vietnam National Trade Fair & Advertising Company and Yorkers Trade and Marketing Service Co., the exhibition at the Saigon Exhibition and Convention Centre in District 7 will run until October 19./.VNA

Bought yours yet? Given a mooncake to the one you love? Mooncakes are the tradition sweet food to eat this time of year during Mid-Autumn Festival. And there's lots of flavours to choose from.
Phu The cake is an eternal symbol of the love of husbands and wives in Vietnamese culture.