Pham Hai Long, general director of Argex Sai Gon, said Vietnamese enterprises were anxious about the latest moves taken by the US and China.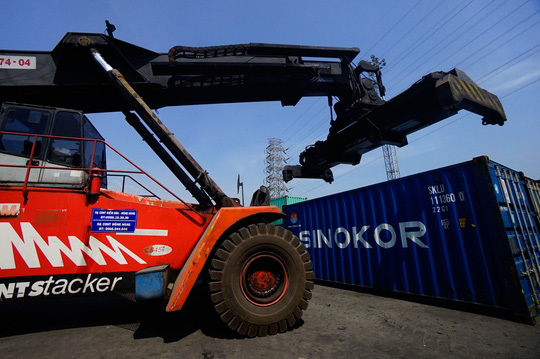 The former has raised tax from 10 percent to 25 percent on $200 billion worth of imports from China and warned about the possibility of taxing $300 billion worth of products from China. Meanwhile, China has announced it will raise tax on thousands of products from the US from June 1.
Argex Sai Gon, like many other Vietnam's enterprises, which import input materials for domestic production, is worried about the material supply amid the trade war escalation.
Businesses have expressed concern over the escalation of the US-China trade war, and are hurrying to seek solutions to anticipated problems.
"The Chinese yuan depreciation, the US dollar appreciation and the dong/dollar exchange rate fluctuations in recent days all affect import/export companies," Long said.
"The depreciation of the dong will benefit exporters, but importers will have to import goods at high prices which affect salability," he explained, adding that to protect businesses, the State Bank of Vietnam (SBV) needs to take action to stabilize the dong/dollar exchange rate.
Pham Xuan Trinh, general director of Phong Phu JSC, admitted that the textile and garment industry has been influenced by the trade war escalation.
Textile enterprises have to import cotton to make cotton fiber for export. China is one of the markets. The cotton import price has dropped by 10 percent compared with two weeks ago, causing enterprises that have placed orders to suffer, though goods have not arrived yet.
As Chinese textiles and garments to the US bear high tax rates, the demand for Vietnam's cotton fiber will be decreasing.
Some people said Vietnam would benefit from the trade war. They think that Vietnam will have opportunities to boost exports to the US once Chinese goods bear high tax and become less competitive.
However, looking at it from another angle, Chinese enterprises will relocate their production to Vietnam to avoid tax, and Vietnam's enterprises with have to compete with them for human resources.
The biggest problem, according to analysts, lies in the input material supply from China. The Chinese are the biggest material suppliers for Vietnam's textile and garment enterprises, and if they scale down production because Chinese goods find it more difficult to enter the US market, Vietnam's enterprises would suffer.
Moreover, the global output decrease as a result of the trade war would also affect Vietnamese enterprises.
"In this situation, the inner strength of enterprises will determine the result of competition. Vietnam's enterprises need to take the initiative in material supply sources," Trinh from Phong Phu said.

Many Vietnamese enterprises are keeping a close eye on the escalating US-China trade war and have expressed concern about its possible adverse impact on their business.  

The dong/dollar exchange rate has fluctuated sharply in recent days after the US decided to impose tariff of 25 percent on $200 billion worth of imports from China.
Phuoc Ha