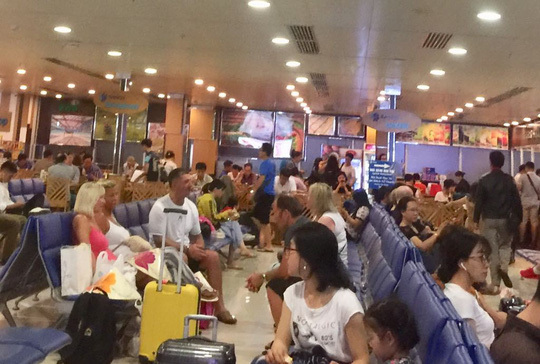 Waiting at Tan Son Nhat Airport
The report revealed a slight increase in delays and cancellations compared to last year.
Vietnam Airlines, Vietjet Air, Jetstar Pacific, Bamboo Airways and Vasco conducted a total of 153,559 flights in the first six months, an increase of 2.4% compared to the same period last year. Vietjet Air had the most flights with 68,821 flights, an increase of 14%, followed by Vietnam Airlines with 53,242 flights, a decrease of 17.1%.
Jetstar Pacific and Vasco had 18,146 and 6,650 flights respectively, both saw a decrease of 1.6% and 4.8%. Bamboo Airways had 6,700 flights.
Overall, the flight on-time performance rate was 84.8%, a 1.3% fall. There were 23,351 delayed flights, accounting for 15.2% of the total flights. The delayed flight rate at Jetstar Pacific was 21.9%. This rate was 18.5% at Vietjet Air, 10.9% at Vietnam Airlines, 7% at Vasco and 6.2% at Bamboo Airways.
According to the CAAV, in 59.4% of the cases, the flights were delayed because the previous flights arrived late. 23.8% were due to the airline and 11.8% were due to ground services and equipment. The remainder were caused by bad weather and other reasons.
Delayed flights are often experienced by low-cost airlines where a late plane has a knock-on effect on schedules.
There were 274 cancelled flights in the first six months, a slight increase of 0.2%. Vasco cancelled 114 flights, Vietjet Air cancelled 110 flights, Vietnam Airlines cancelled 48 flights and Bamboo Airways cancelled two flights.
Nguoilaodong/Dtinews

Pilots of new-age Vietjet Air have had some restrictions on their working hours lifted, however, they were requested to satisfy a number of conditions issued by the Civil Aviation Authority of Vietnam

Travelers now have more choices for flights as air carriers have opened new air routes and offered more flights to tourist sites with attractive sale promotion programs in the summer high season.