Vietnam's egg coffee makes world top 10 best drink list
Vietnamese egg coffee has been cited one of the world's top 10 drinks by Buzzfeed, an American online social news and entertainment giant.
Vietnam's egg coffee makes world top 10 best drink list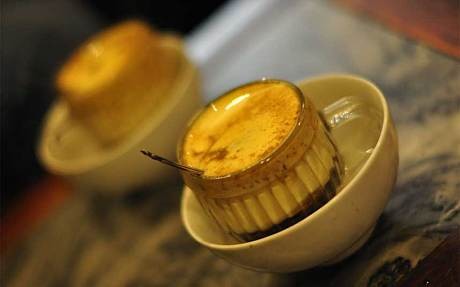 Vietnamese egg coffee has been cited one of the world's top 10 drinks by Buzzfeed, an American online social news and entertainment giant.
"Sounds very strange but a combination of egg yolks, condensed milk, sugar, butter and laughing cow cheese is whisked until fluffy and thick and served with hot coffee! Incredible rich taste- like a liquid tiramisu", said the website.
The top 10 list was rounded out by Kaffeost of Finland, Kan Kohi of Japan, Café des épices of Morocco, Café Lagrima of Argentina, Turkish Coffee of Turkey, Cafe del Olla of Mexico, Café au lait of France, Cafe Bombon of Spain, and Espresso Romano of Italy.
Bac Lieu hosts Miss Vietnam 2014 finals in south
The Mekong Delta Province of Bac Lieu whose don ca tai tu (traditional songs and music of southern people) was recognized by UNESCO as an intangible heritage of humanity will host the final round of Miss Vietnam 2014 contest for the southern region from on November 4 until Sunday.
Bac Lieu is also the hometown of Miss Vietnam 2012 Dang Thu Thao, the first beauty queen from a Mekong Delta Province in the 26-year history of the national beauty pageant.
Forty finalists who were chosen from a qualification in HCMC last Sunday will take part in events to honor the traditional culture of Bac Lieu, including visits to a Ho Chi Minh temple, a revolutionary martyrs' monument and a heritage site to commemorate late composer Cao Van Lau who created Da co hoai lang, the most popular song of don ca tai tu.
The beauties will also join in filming activities to promote other cultural places in the locality, including Hung Vuong Square, a statue of kim musical instrument, Non La (conical hat) Theater, Bac Lieu wind-power construction, Ho Nam tourist site and an ancient house of Bac Lieu Dandy. The organizers and contestants will participate in a social activity with a budget of VND100 million.
The final round which takes place at Bac Lieu's multi-functional sports hall with a capacity of 3,500 seats will have the participation of local popular artists Thuy Tien, Dan Truong, Tran Lap and Khanh Thi. Contestants will perform ao dai (Vietnam's long dress) by Ngo Nhat Huy, evening gowns by Hoang Hai and Son Collection and swimwear by Xuan Thu. The program will be broadcast on VTV9, SCTV 4 and SCTV 7, and TV channels of Bac Lieu and Vinh Long provinces and other neighboring areas.
The contest, first launched in 1988, is organized by Tien Phong newspaper, the People's Committee of Kien Giang Province, Vingroup, Sen Vang Company and Tien Phong JSC. The contest is open for local single girls who are aged between 18 and 27 without cosmetic or gender surgery and at least 1.62m tall.
Miss Vietnam will receive a cash prize of VND300 million and a crown while first and second-runner ups will respectively get VND150 million and VND100 million.
40 best candidates selected in southern region's primary round for Miss Vietnam
A press conference of Miss Vietnam Beauty Pageant 2014 was taken place in Ho Chi Minh City on November 3, aiming to announce list of 40 best candidates for the primary round of the southern region.
The southern region's primary round will be kicked off in Bac Lieu city from November 4-9. The candidates will perform Ao dai dress (Vietnamese traditional dress), bikini and gala event dress.
Through the contest, the candidates will have opportunity to experience the traditional cultural activities in the Mekong Delta like visiting Cao Van Lau Historical Site, learning about art of Don Ca Tai Tu, practicing the immortal song "Da co hoai lang" and other songs.
Many famous singers also take part in the event such as Tran Lap, Thuy Tien, Kyo York, Khanh Thi, Dan Truong and others
After the primary round in the southern region, the organizers will select top 20 best beautiful women to take part in the final round.
20 winners in southern region and 20 best candidates in northern region will attend in the final in Phu Quoc Island district starting November 23 to December 6.
The winner will receive VND 300 million and title of Miss Vietnam 2014. The first and second runners-up will receive cash prizes of VND150 million and VND100 million.
HCM City to host Bonsai International Festival
The Ho Chi Minh City Ornamental Creature Association on November 4 announced it will host the 5th international bonsai festival at Tung Son Thach Park (Rin Rin Park) next year from June 5 to 8.
The first of its kind event will be organised in collaboration with 12 other countries including Japan, the Republic of Korea, Thailand, Indonesia, Singapore and France.
The exhibition will feature more than 500 bonsai works made by local and foreign artisans and organizers announced as many as 50 masters of Bonsai have expressed an interest in attending the event.
Vietnam Year in France comes to an end
The Vietnam Year in France, which featured over 100 economic, socio-cultural and scientific events at an unprecedented scale, concluded in Paris after running for 10 months in celebration of the 40th anniversary of bilateral diplomatic ties.
The Vietnam Year presented the country as an Asian nation closely linked to France in terms of history and culture. Official relations between the two countries were strengthened by the establishment of the strategic partnership last year, which boosted mutual prospects for cooperation via exhibitions, workshops, fairs and international festivals.
Deputy Foreign Minister Vu Hong Nam said in his closing remarks in Paris on November 3 that exchanges on national defence, education and training, and scientific research as part of the Vietnam Year in France had provided a new momentum for bilateral ties.
Ambassador Duong Chi Dung hailed the year as a success for all stakeholders, including the two Governments, the private sectors and local authorities.
Vice Mayor of Paris, Bruno Julliard, on his part, praised the Vietnamese community for their important contributions to the city's cultural diversity.
At the closing ceremony, a colourful combination of Vietnamese fashion shows and musical performances captivated the French audience.
Throughout the year, a vast array of events, including cinematographic pieces, circus performances, water puppetry, contemporary dance and music, ca tru (ceremonial singing), and traditional martial arts performances, was organised. In particular, Vietnamese cuisine was also on offer at local hotels and in public places, including typical street-food.
Exhibition on Paracel and Spratly archipelagos opens in Soc Trang
An exhibition on "Vietnam's Hoang Sa and Truong Sa archipelagos: historical and legal evidence" was launched at the Khmer Cultural Exhibition Centre in the southern province of Soc Trang on November 4.
The exhibition displays legal and historical evidence proving Vietnam's sovereignty over the two archipelagos.
It also showcases 12 ancient Vietnamese maps, as well as official documents dating back to the Nguyen dynasty, (1802-1945) and photographs of the two archipelagos.
According to Vice Chairman of the Soc Trang provincial People's Committee, the Hoang Sa (Paracel) and Truong Sa ( Spratly) archipelagos are inseparable parts of Vietnam's territory. He said the displayed maps, photographs, records and documents prove the Vietnamese State's sovereignty over the two archipelagos since the 16th century in accordance with relevant rules and principles of international law.
The exhibition aims to deepen the understanding of international friends, including Chinese, of the historical truth and demonstrate Vietnam's aspiration to maintain peace, and consolidate stability in the region, and confirm the nation's will to protect its motherland.
The exhibition ends on November 10.
Exhibition to showcase paintings by disabled children
Disabled children will tell their stories and dreams through a painting exhibition that opens this weekend in Ha Noi.
The exhibition is the result of Imperfection, a project that aims to bring out the talent in children with disabilities.
The project was launched by the Centre for Sustainable Development Studies Viet Nam (CSDS) along with a group of high school students in Ha Noi. These students visited the centres for disadvantaged children, taught them to paint and selected the best artworks for the exhibition.
Entitled Pieces, the exhibition will be held over two days at Cong Nhan (Workers) Cinema, 42 Trang Tien Street, Ha Noi.
All the paintings will be on sale to raise funds for the children and their Hoa Binh (Peace) Village in Thanh Xuan District, Ha Noi.
It's hoped that the exhibition will be a bridge between the disabled children and society, giving them an opportunity to open their minds with other people and express their talent, according to Le Dao Duc Anh, a representative of CSDS.
VNS/VOV/ND/SGT/SGGP