Vietnam's environmental protection law amendment proposed

To better respond to the negative effects of climate change, it is necessary to amend and supplement some articles of the 2014 Environmental Protection Law.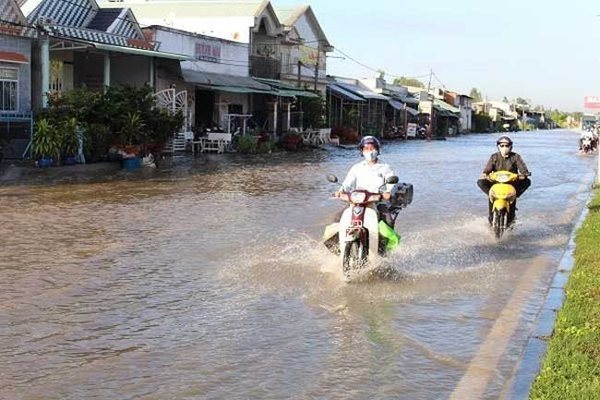 Flood tides submerge a section of National Highway 1 in the Mekong Delta province of Vinh Long. Amendments to the 2014 Environmental Protection Law have been proposed to better respond to climate change
Speaking at a workshop on policy and legal change recommendations for responding to climate change, held in Can Tho City today, October 7, Truong Duc Tri, deputy head of the Climate Change Department at the Ministry of Natural Resources and Environment said the country had added regulations on climate change response to the law in 2014 for the first time, adding that these regulations were provided in chapter IV of the law.
However, some articles should be added or amended to match the current reality.
Specifically, Tri proposed supplementing two articles: where the response to climate change includes people's activities to adapt to it and reduce greenhouse gas emissions and where the response must focus on sustainable development and enhance the resistance of natural and social systems.
In Article 40, Tri suggested adjusting Item 1. Specifically, the words "response to climate change must be expressed in socioeconomic development strategies and plans" should be replaced with "response to climate change must be included in the strategy and planning system, which requires environmental impact assessment reports in line with the Environmental Protection Law and related laws."
In addition, two new items were proposed to be added: response to climate change as a long-term goal of the country's strategy and the inclusion of climate change responses in the strategy while considering the environmental impact assessment report.
Tri also proposed adding a new regulation to Item 1 of Article 41, requiring that the financial system's development and cooperation efforts to reduce greenhouse gas emissions meet local regulations and international treaties.
Many regulations in Articles 42-48 were also proposed for amendment, such as those encouraging the collection, recycling, use and destruction of ozone-depleting substances, which are controlled by the Montréal Protocol.
Can Tho Vice Chairman Dao Anh Dung noted that the city is suffering serious effects of climate change, such as extreme weather, extraordinary natural disasters, flood tides and landslides.
Although policies on the response to climate change have been issued, the deployment of these policies remains ineffective. The work has yet to receive the enthusiastic support of the community and local and foreign organizations, Dung said.
Marcel Reymond from the Embassy of Switzerland in Vietnam cited recent studies by the World Bank, noting that floods cause direct losses of some US$130-190 million per year in the Mekong Delta region. If indirect losses are included, these losses amount to US$650 million.
Therefore, Marcel advised Vietnam to improve its laws and policies.
According to Anna Pia Schreyoegg, chief technical advisor of the "Support to Vietnam for the Implementation of the Paris Agreement" project, Vietnam is among the 10 countries most vulnerable to climate change.
Over the past five decades, the temperature increase experienced in Vietnam has doubled that of the world, while  sea levels have risen by 20 centimeters. Natural disasters annually cause economic losses of 1% of the country's gross domestic product, Schreyoegg noted. SGT
 
Trung Chanh