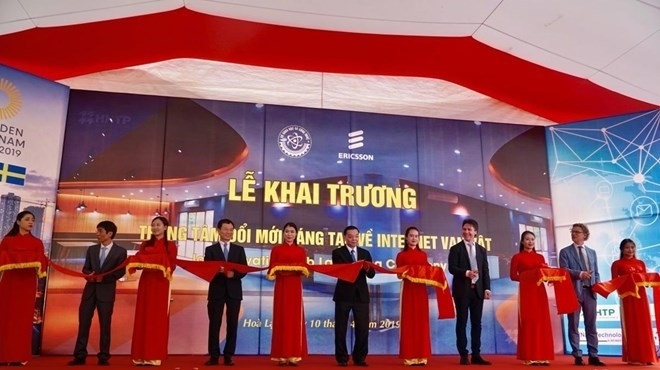 At the launching ceremony
The centre was established based on the memorandum of understanding signed between Vietnam's Ministry of Science and Technology and Sweden's Ericsson company on November 28, 2018.
It aims to provide the platform for startup firms, learning and education, and research and development to speed up IoT technology in Vietnam in the context of the Fourth Industrial Revolution (Industry 4.0).
At the opening ceremony, the Hoa Lac Hi-Tech Park's management board and the Ministry of Science and Technology signed cooperation programmes with VNPT Technology, Viettel, FPT University, the University of Engineering and Technology (under the Vietnam National University, Hanoi), the Institute of Information Technology, and the Hanoi University of Science and Technology to support the operation and development of the centre.
The centre will enable domestic mobile operators, businesses, students, researchers, and startups to create, develop, and test IoT applications as well as support them in the commercialisation of products.
Minister of Science and Technology Chu Ngoc Anh said the centre will help connect and provide platforms to support innovation in startup firms, as well as create a learning environment for tech-savvy youngsters.
Denis Brunetti – President of Ericsson Vietnam, Myanmar, Cambodia, and Laos – said the establishment and operation of the centre will help promote cooperation between the two nations in building initial platforms for innovation activities in Vietnam.
It also holds significant meaning in celebration of the 50th founding anniversary of Vietnam-Sweden diplomatic ties, he said.