Vietnam's GDP growth forecast robust for 2020

Vietnam would look to maintain economic growth of 6.76 per cent this year.
Goods loaded at a seaport in Da Nang. Efforts to keep inflation down and the forex rate in check will play a key role in boosting GDP growth in 2020, experts say. 
How much the economy could pull ahead, however, would largely depend on the global economy, said Dang Duc Anh, deputy director of the centre.
In a positive scenario, in which the global economy experienced growth and the country managed to hold inflation down and keep the forex rate under control combined with the implementation of sound socio-economic development policies, Viet Nam's GDP could grow at more than 7 per cent.
In a more conservative approach, in which ongoing trade tensions, rising protectionism and natural disasters had a much greater impact than anticipated, the economy was forecast to grow at 6.76 per cent, especially if key sectors as agriculture exports and animal husbandry were hit hard.
While economic experts had not reached a consensus with their forecast for 2020, most had argued the global economy was likely to slow down.
"Flaring tensions from political and economic issues around the world is hurting the price of commodities, especially the US-China trade war. On top of that, rising trade protectionism in many markets hinders trade and damages the global value chain," said Anh.
Viet Nam, however, is in a good position to pursue high GDP growth this year thanks to stable macroeconomics, numerous international trade deals, rising contributions from the private sector and a growing appetite in the domestic market for goods and services.
Key challenges and limitations for Viet Nam include its processing and manufacturing sector, traditionally a major driver of the economy, which is facing a limited supply of skilled workers, underwhelming growth among the country's small-medium enterprises.
In addition, a number of key products have been negatively affected by the on-going US-China trade war, or become targets of higher tariffs in overseas markets.
Anh urged the Government to focus on providing support to key business sectors in which Viet Nam enjoys competitive advantages or those that could support other economic sectors such as tourism, information technology, software manufacturing and agriculture. Vietnamese products must also find ways to enter new markets to minimise the negative impacts of potential geo-political conflicts. — VNS

In 2020, the country's domestic demand is set to benefit from generally supportive financial conditions amid low inflation and robust capital flows.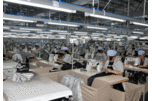 Viet Nam's GDP growth would reach 6.8 per cent from the 7.02 per cent posted in 2019, mainly due to a slowdown in the industrial sector, analysts from Fitch Solutions forecast.