Vietnam's inflation controllable despite soaring pork prices

This years inflation is controllable at 3.3-3.9 per cent, Deputy Prime Minister Vuong Dinh Hue said while chairing a meeting early this week regarding the recent surge in pork prices, an essential foodstuff.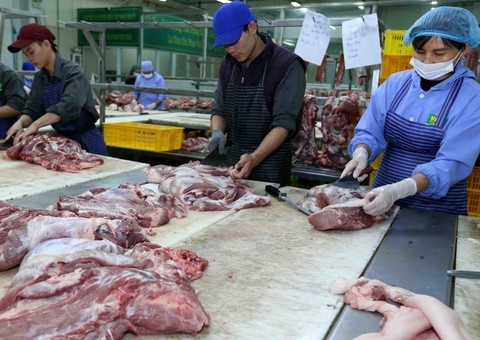 Workers prepare pork for the market at Vinh Anh Food Technology Joint Stock Company. The GSO predicts inflation in November may rise by 0.8-1 per cent, and pork price hikes will contribute 0.75 per cent to CPI expansion.
The General Statistics Office (GSO) predicts that the consumer price index (CPI) in November may rise by 0.8-1 per cent from last month, and pork price hikes will contribute 0.75 per cent to the CPI expansion.
Data of this office shows that pork prices at present have increased by almost 19 per cent from the same period last year. They now stand at VND70,000-VND75,000 per kilo in the north, even VND78,000 in Lao Cai and Hung Yen provinces, VND70,000 in the central region and VND65,000-VND75,000 in the south.
It also forecast a shortage of more than 200,000 tonnes of pork, compared to the total demand for over 600,000 tonnes, in the fourth quarter of this year. If pork prices continue to increase by 10-15 per cent to around VND80,000 per kilo, this years CPI will grow by less than 3 per cent against 2018, still under the ceiling limit of 4 per cent.
Meanwhile, Deputy Minister of Industry and Trade Do Thang Hai said the country is likely to experience a shortage of 70,000-90,000 tonnes of pork in live weight for the Lunar New Year (Tet) holiday, which falls in late January 2020.
He said relevant agencies should consider importing pork if domestic supply is insufficient, adding that this will help cool down pork prices and reduce inflation expectations.
At the meeting, Deputy PM Hue said a supply shortage is obvious, noting that supply and demand must be balanced on a monthly basis. He asked the Ministry of Industry and Trade and the Ministry of Agricultural and Rural Development to consider pork imports.
However, Hue said, the imports must ensure supply for consumers while not affecting pig farmers, and the move is just to deal with the temporary supply shortage and not a long-term activity.
Hue also affirmed that the Government will manage to ensure supply-demand balance and harmonise interests of consumers, businesses and intermediaries.
At the meeting, Deputy Minister of Agriculture and Rural Development Phung Duc Tien reported that from early February to November 15, African swine fever was recorded in almost 8,500 communes across the countrys 63 provinces and cities. Up to 5.88 million pigs weighing 337,000 tonnes were culled, accounting for over 8.8 per cent of the total pig weight nationwide.
Recently, average prices have reached VND60,000-67,000 (US$2.59-2.89) per kilo of live pigs and even up to VND72,000 in some places, due to supply shortage. Meanwhile, in some places, pigs are still transported to China via border crossings, he noted.
The Deputy Prime Minister said the increase of pork prices is due to some traders who have kept this commodity to push up price while the State management agency has not strictly controlled the export of pork because there are cases of collecting pork for exporting to other countries.
In this situation, Hue asked the Ministry of Agriculture and Rural Development to closely coordinate with the Ministry of Industry and Trade and the General Statistics Office to carefully calculate supply and demand each month, especially in the next three months.
MARD solutions
Also, on November 18, Minister of Agriculture and Rural Development Nguyen Xuan Cuong had a meeting with a number of large animal husbandry enterprises to discuss solutions to stabilise pork supply for the domestic market during the upcoming Tet holiday.
Minister Cuong said in the last two months of this year and the first quarter of 2020 with the highest demand for food, the market is likely to lack pork in some places and have imbalance in supply and demand among regions, leading to strong fluctuations in pork prices.
Therefore, the minister will have solutions to increase supply of other foods such as seafood, cattle and poultry, to meet domestic demand and export, he said. The Livestock Production Department will guide farmers to promote re-breeding of pigs and extend the breeding period to increase productivity.
Regarding trading activities, Minister Cuong said the State needs to control pork imports and exports to ensure a stable domestic market and profit for farmers.
Vu Anh Tuan, Deputy General Director of the CP Viet Nam Livestock Joint Stock Company, said if the pork prices have surged sharply, farmers will promote re-production of pigs. That will lead to the risk of disrupting the development plan of the pig industry.
Dao Manh Luong, General Director of Mavin Group, said the first solution is to remove difficulties in circulation to remote areas, avoiding price hikes because businesses themselves wish to stabilise prices.
Luong also said that the industry should encourage the re-development of pig herds with incentive policies, including credit support for eligible households breeding pigs. — VNS

Deputy Prime Minister Vuong Dinh Hue said at a conference yesterday that if there are no unexpected factors, this year's inflation can be kept at around 3.3 – 3.5 percent.  

Deputy Prime Minister Vuong Dinh Hue on November 18 assigned the Ministry of Industry and Trade to calculate pork supply and demand every month from now until Tet holiday.