Vietnam's manufacturing output growth quickens to nine-month high
Firms are increasingly confident about the year-ahead outlook.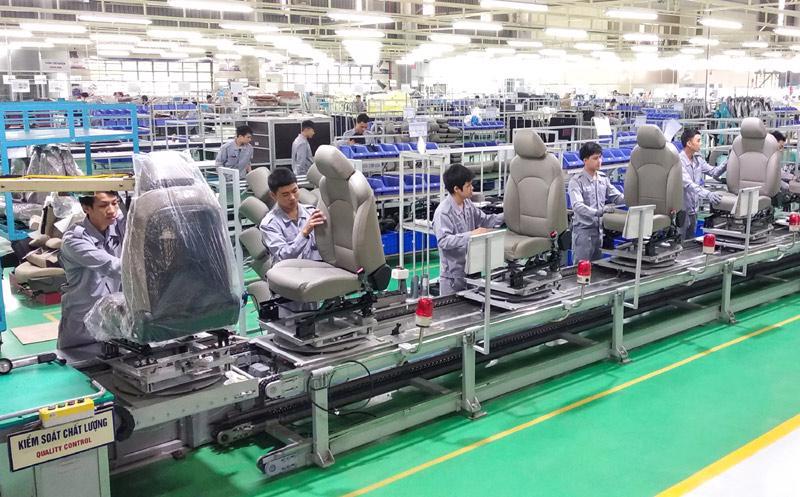 The Vietnam Manufacturing Purchasing Managers' Index (PMI) rose to 53.7 in January, up from 52.5 in December and signaling a solid improvement in business conditions that was the most marked since April 2021, according to Nikkei and IHS Markit.
A reading below the 50 neutral marks indicates no change from the previous month, while a reading below 50 indicates contractions, and above 50 points means an expansion.
"Vietnamese manufacturers made a positive start to 2022, with the absence of any widespread restrictions meaning that the sector was able to grow despite relatively high Covid-19 case numbers. Firms were also increasingly confident about the year-ahead outlook," said Andrew Harker, economic director at IHS Markit.
"The pandemic continues to impact the sector, however, most notably through staff absences, while the possibility of sharply rising case numbers due to the Omicron variant could lead to even more disruption. A further headwind remains issues with shipping, which affected deliveries from suppliers and the ability of firms to deliver to customers, as well as adding to cost burdens," he said.
Both output and new orders increased at sharper rates in the opening month of the year as customer demand continued to improve. In each case, the rate of expansion was the sharpest in nine months. Total new orders were supported by a further improvement in new business from abroad, with the rate of growth quickening to the fastest since November 2018. Despite output rising solidly, some firms indicated that high levels of Covid-19 infections had impacted production volumes.
Firms were also increasingly confident in the year-ahead outlook for production, although optimism depends to some extent on the pandemic being brought under control. Around 60% of respondents predicted a rise in output, with overall optimism the strongest in over three years.
A second successive rise in employment was recorded in January as firms continued to rebuild workforce numbers following the Delta wave of the pandemic in 2021. The rate of job creation picked up from that seen in December but remained only modest as some staff was off work with Covid and others had yet to return from their hometowns.
The increase in employment enabled manufacturers to keep on top of workloads despite the sharper growth of new orders. Backlogs of work fell marginally in January, the first decline in five months.
There were further signs that inflationary pressures have become less pronounced than seen through much of 2021. Input costs increased at the second-slowest pace in seven months, while output price inflation eased to the weakest since last September. According to respondents, a key factor behind rising input costs was higher charges for freight and international shipping.
Problems with shipping and ongoing disruption caused by the COVID-19 pandemic meant that suppliers' delivery times continued to lengthen at the start of the year. The latest deterioration in vendor performance was marked, but much less pronounced than last September's series record.
Disruption around shipping contributed to a rise in stocks of finished goods as products were stuck in warehouses rather than distributed to customers. The increase followed a solid fall in December.
Manufacturers expanded their purchasing activity sharply for the fourth successive month as firms reacted to higher new order inflows. There were also some reports of companies attempting to build inventory reserves, which led to the first increase in the stock of purchases in three months.
Source: hanoitimes

When the Covid-19 pandemic broke out, Vietnam was in a zero-vaccine state, so it had to implement social distancing to protect people's health and life.