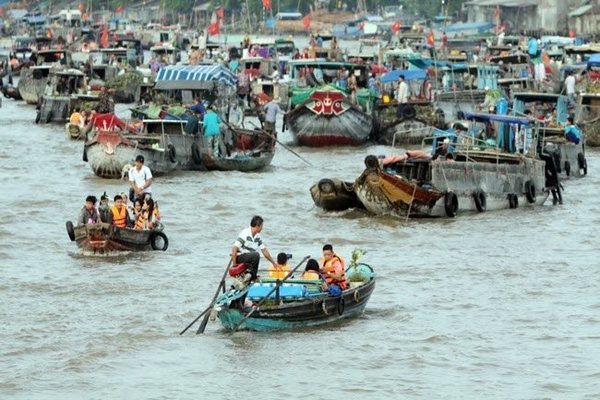 A view of Cai Rang floating market, one of the tourist attractions in the Mekong Delta city of Can Tho. All 13 provinces and cities in the region are seeking investment in 128 culture, sports and tourism projects - PHOTO: VNA
Preferential policies to attract investors will be put in place.
An Giang Province expects to raise funds for 24 projects, while the province of Bac Lieu will call for investment in 20 projects and Kien Giang will seek funding for 15 projects, according to the organizing board.
Of the megaprojects, a mangrove eco park project in Ba Dong Sea in Tra Vinh Province is in need of over VND1.3 trillion, while an ecotourism zone project on the Tan Loc river islet in Can Tho City requires VND915 billion, and a shopping mall and entertainment complex project in An Giang is seeking VND900 billion in funding.
Many provinces have offered multiple incentives to attract investors to the big-ticket projects. Participating investors will get tax reductions, support for training human resources and funding for each hotel room built.
In particular, Vinh Long will provide VND30 million per bedroom for four projects to develop three-star hotels and resorts in Binh Minh Town and Long Ho District. There will be restrictions on the number of rooms these projects can hold.
Meanwhile, in Dong Thap, investors in the first three-star hotels in poverty-stricken areas will receive funding from the province, at VND40 million per hotel room. For the first four- and five-star hotels in Cao Lanh, investors will receive up to VND50 million per room.
Also, Tra Vinh will offer funding of VND30 million per room for homestay investors.
The investment promotion conference is part of a two-day forum to sync tourism activities between HCMC and the 13 Mekong Delta localities, starting from today, in HCMC's District 7.
The conference was co-organized by the Investment and Promotion Center of HCMC, the municipal Department of Tourism, the 13 provinces and other competent agencies in the city. It is expected to gather 200 participants, who are representatives of foreign affairs agencies, investment funds and companies at home and abroad.
Database technology needed to boost tourism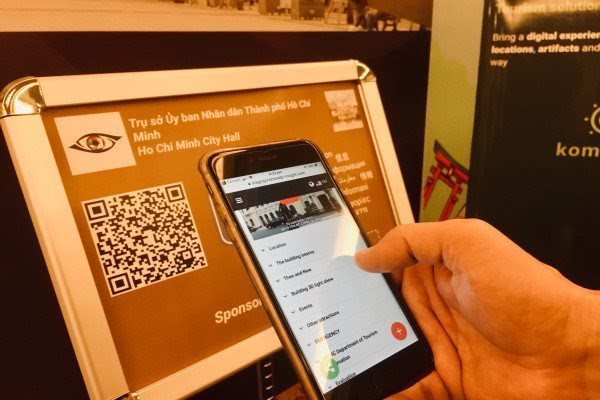 A person uses a QR code platform developed by Komorebi to learn about a tourist site. The tourism sector is in dire need of database technology to reform its services and products – PHOTO: MY HUYEN
The tourism sector is in dire need of database technology to reform its services and products to attract more tourists and create leverage for its growth in the coming period, heard attendees at a forum on tourism startups on September 4.
Many startups have been jumping onto tourism, building Big Data sources to improve the tourism sector.
Jason Lusk, general director of Clickable Vietnam, noted that many local travel firms have remained passive in creating new tourism products. They are still using traditional methods for collecting information on tourists and marketing tourism services and products, he added.
As such, this is a great opportunity for tourism startups to apply database technology platforms to ease information collection on entering the tourism sector.
Eytan Schmal, chief executive officer of Komorebi, noted that the startup is eyeing the advantages of database technology to tap the tourism sector in Vietnam.
Komorebi is in the process of negotiating with the competent agencies to allow it to provide quick response codes (QR codes). The QR code will introduce tourist attractions in HCMC, with accompanying information, locations and directions, for travelers who wish to learn about them.
Data will be recorded when tourists use the code to learn about and visit various tourist destinations, according to the representative of Komorebi, adding that travel firms may analyze these data to determine the market's preferences.
Apart from this, local startup Luxstay is cooperating with homestay service facilities in Dalat City to rebuild their images and brands to attract more tourists through data sources on its platform. Luxstay provides a homestay booking service platform.
Lusk of Clickable Vietnam pointed out that the tourism sector depends on tech firms, mainly startups, to research new trends and services to develop the sector and attract more visitors. Tourism development is based on tourists' tastes, which are determined by databases.
Besides this, Lusk encouraged local travel firms to welcome foreign startups to increase competition and boost the tourism sector in the country. SGT
Dao Loan/My Huyen

Ho Chi Minh City and 13 provinces and city in the Mekong Delta region are stepping up efforts to boost cooperation and diversify inter-regional travel packages to attract tourists.

Localities in the Mekong Delta region have increasingly diversified their tourism products to attract more tourists, but the underdevelopment of the traffic infrastructure has led to sluggish tourism growth in the region.  

The Mekong Delta region enjoyed a boost in tourist arrivals in the first half of the year as a result of efforts to diversify tourism products and services.