Vietnam's multidimensional poverty rate dropping
The multidimensional poverty rate in Vietnam reduced from 9.9 percent in 2016 to 4.5 percent in last year, according to the General Statistics Office (GSO) under the Ministry of Planning and Investment.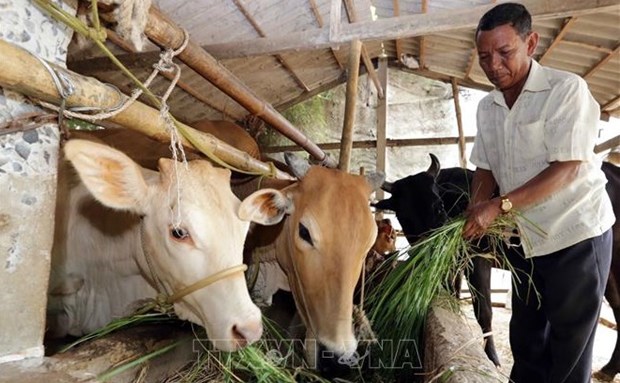 The multidimensional poverty rate in Vietnam reduced from 9.9 percent in 2016 to 4.5 percent last year,
The rate in rural areas is higher than that in urban areas, but the gap is reducing gradually. 
Multidimensional poverty during 2016-2020 in Vietnam was calculated using data from the Vietnam Household Living Standard Surveys in 2020 conducted by the GSO within cooperation with the UNDP.
During 2016-2019, the proportion of households deprived of basic social services showed declines year after year in almost all indicators, reflecting Vietnamese households' better access to the services.
In 2020, due to the impact of COVID-19, the downward trend was disrupted in some indicators.
Health insurance, which was the indicator with the highest deprivation, showed the fastest reduction, from 40.6 percent in 2016 to 19 percent last year.
Child health care and education indicators saw low deprivation levels and remained almost unchanged.
The outcomes also showed that high income does not automatically means good access to basic services, as seen in the Mekong Delta and the southeastern region. 
Nguyen Van Doan, head of the research group, said as from 2020, the result of multidimensional poverty calculations in Vietnam will be announced quarterly, instead of yearly as previously.
Prof. Dr.  Jonathan Pincus, UNDP Senior Economist, lauded the GSO's timely release of the report, which, he said, is important to policy making, especially in the context of COVID-19.
Such detailed and timely information would help to adjust policies, making them match changes due to socio-economic impact of the pandemic, he said.
Multidimensional poverty during 2016-2020 is calculated by Alkire-Foster methodology, which includes 5 dimensions (education, health, housing, living condition, accessing ICT) and 10 indicators (adult education level, schooling, accessing health services, health insurance, quality of dwelling, square of dwelling, water source, improved sanitation, assets, ICT access).
Since September 2020, the UNDP has assisted the GSO in improving its capacity for designing and conducting surveys on Vietnamese households' living standards./.
Source: VNA
The Vietnamese Government has issued a decree on new multidimensional poverty standards for the 2021-2025 period, which raises the income-based poverty threshold in both rural and urban areas.