Vietnam's outlook positive for investment attraction

Vietnam is expected to attract more investors as its economy is developing at a stable rate, with GDP growth of 7 percent.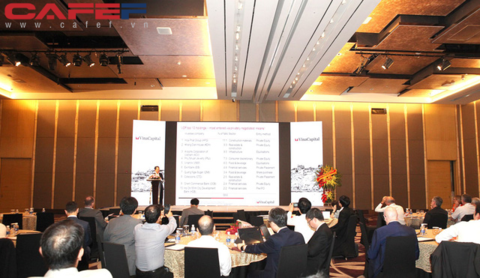 At the VinaCapital Investor Conference in Hanoi (Photo: cafef.vn)
The country's competitiveness has increased by 10 places inthe 2019 Global Competitiveness Index, which was announced this week.
The information was released by VinaCapital Co-Founder andCEO Don Lam at the two-day 2019 VinaCapital Investor Conference held in Hanoiearlier this week.
He said after four consecutive years of holding its investorconference in Ho Chi Minh City, this year Vinacapital chose Hanoi because thecapital city was becoming a leading destination for foreign direct investmentin Vietnam.
"Most investors come from the Republic of Korea and Japan, showing thatthe wave of Asian capital flow is interested in the Vietnamese market," Lamsaid.
VinaCapital, a leading investment management firm, plans tolaunch the VinaCapital100 ETF (exchange-traded fund) by the end of this year,with initial capital of 50 billion VND (2.1 million USD).
"I hope after the meeting today, investors will pour morecapital into the Vietnamese stock market," Lam said.
At the two-day conference, which attracted experts, speakersand representatives from investment partners, the participants discussedvarious topics including environmental, social and governance (ESG) criteria ininvestment in Vietnam, opportunities in technology development, sustainableenergy production and tourism.
In addition, directors of companies and leaders in thebanking, logistics, steel and retail sectors shared experience and offeredsolutions to access opportunities from the strong growth of Vietnam's economy.
According to Andy Ho, Managing Director and Chief InvestmentOfficer at VinaCapital, the firm is managing over 3.3 billion USD in assets, ofwhich 1.7 billion USD comes from investors (including 917 million USD from theVietnam Opportunity Fund and open funds), while the rest comes from thecompany's own trading.
One of VinaCapital's largest projects is the 4-billion-USD HoiAn Casino project, of which VinaCapital holds 31.91 percent and SunCity  – which is 70 percent owned by Hong Kong-basedChow Tai Fook – holds 68.09 percent.
This project started construction in April 2016 and wasexpected to open in December this year, Ho said.
He said VinaCapital had also invested in a number of otherreal estate projects in Vietnam such as a resort in Quy Nhon City in thecentral coastal province of Binh Dinh and the 100-million-USD VinaCapitalVentures. He did not disclose the company's own trading items.
According to Nguyen Thi Thai Thuan, General Director ofVinaCapital Fund Management JSC, VinaCapital is managing open funds forVietnamese investors including Bảo Thịnh VinaWealth Enhanced Fixed Income Fund(VFF), with a net asset value (NAV) of 161 billion VND, Hung Thinh VinaWealthOpportunity Fund (VEOF), with NAV of 524 billion VND), VinaCapital OpportunityFund (VOF) with 82 billion VND, and some other funds. The net worth of thesefunds is about 55 million VND.
VinaCapital statistics show that as of August 31 this year,VFF gained a growth rate of 5.7 percent compared with that of early this year,and VEOF increased by 10 percent, meanwhile VOF decreased by 2.8 percent./.VNA