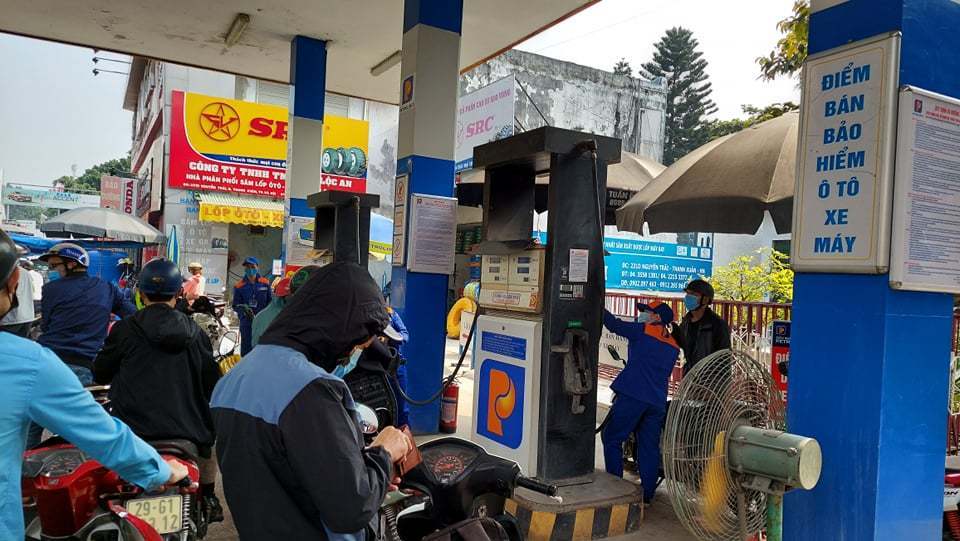 According to Global Petrol Prices, on February 14, Vietnam's RON 95 petrol was the 65th lowest in the world, at $1.096 per liter, or VND25,000 (the report did not update new prices in the next review, commencing from February 21).
The petrol price in Venezuela was the lowest, just $0.025 per liter, while petrol in Hong Kong was the most expensive.
Global Petrol Prices showed that with VND25,000 per liter, Vietnam's petrol price was slightly higher than in the US ($1.013 per liter, or VND23,045) and lower than the remaining six countries in G7.
The petrol price in Italy is the 10th highest in the world ($2.075 per liter, or VND47,206 per liter). The figures are $1.992 (VND45,318) in France, $2.004 (VND45,591) in the UK, and $1.997 per liter in Germany (VND43,611), $1.387 (VND31,554) in Canada, and $1.45 in Japan (VND32,987).
However, these are countries with higher income per capita than Vietnam.
According to the World Bank (WB), if calculating the income per capita in accordance with PPP (purchasing power parity), the figures would be $63,414 per head per annum for the US, $31,714 for Italy and $40,193 for Japan, $39,030 for France, $46,208 for Germany, $43.258 for Canada and $41,125 for the UK. Meanwhile, the figure is modest for Vietnam, just $2,786..
As such, while Vietnam's petrol price was less than half lower than the prices of most of G7 countries, its GDP per capita was tens times lower.
If compared with Southeast Asia, the prices in some countries are lower than in Vietnam. These include Malaysia, where the price is $0.489 per liter (VND11,124), and Indonesia, where it is $0.887 per liter (VND20,179).
The other countries have prices higher than Vietnam, including Cambodia ($1.153 or VND26,230), the Philippines ($1.213 or VND27,575), Thailand ($1.342 or VND30,530), Laos ($1.342 or VND30,530) and Singapore ($1.986 or VND45,181).
The petrol prices of other regional countries including Timor Leste, Myanmar and Brunei have not been updated by Global Petrol Prices.
Meanwhile, the average GDP per capita of Vietnam compared to others in Southeast Asia in 2020 was only higher than the Philippines ($3,299), Laos ($2,630), Cambodia ($1,513), Timor Leste ($1,381) and Myanmar ($1,400).
Vietnam's GDP per capita is much lower than Singapore ($59,798), Brunei ($27,443), Malaysia ($10,412), Thailand ($7,189) and Indonesia ($3,870).
Vietnamese have to spend a bigger proportion of their total income to buy one liter of petrol, higher than G7 and ASEAN countries.
The price gaps among countries are attributed to taxes and fees imposed on petroleum products. 
Luong Bang

Only 20-30 out of 16,000 filling stations nationwide have stopped selling petrol amid reports that fuel was running out, which has prompted people to rush to buy petrol for hoarding.

On February 21, petrol prices set a new record after the Ministry of Industry and Trade and the Ministry of Finance decided to increase the price of all kinds of petrol and oil.