Vietnam's police tackle herbal medicine of unclear origin

The Ministry of Public Security on Sunday declared it had destroyed a ring smuggling herbal medicine of unclear origin in several different provinces and cities.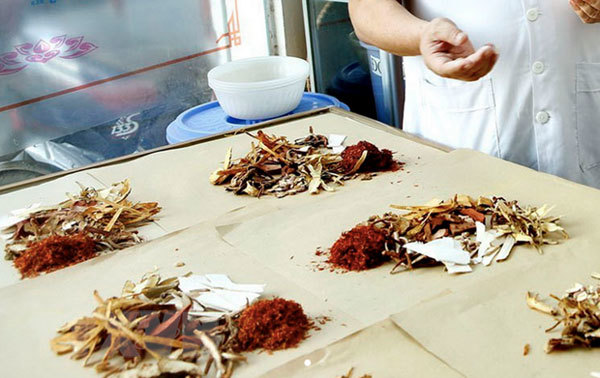 Vietnamese traditional herbal medicine. 
The ring was discovered on December 4 at Chi Ma Border Gate in Loc Binh District, the northern mountainous province of Lang Son.
Police caught Tran Van Quang, a customs worker, and Nguyen Van Khanh, a driver, in the act of completing procedures to bring goods through the border gate.
In the customs declaration, they said the goods were dried fruits.
However, police found they were transporting nearly 400 bags of herbal medicines of different kinds.
Opening an investigation, the police checked to six traditional herbal medicines shops in Ninh Hiep Commune, Gia Lam District in Hanoi and seized more than four tonnes of herbal medicines without documentation on their origin.
The police then inspected two stores in Tu Son District, the northern province of Bac Ninh and confiscated more than six tonnes of herbal medicines without any papers or certificates of origin.
Police detained Quang, Khanh and the owner of the stores Lam Dinh Hung for further investigation. — VNS

HCM City has handled 903 violations and arrested 863 violators since the beginning of the year for smuggling or counterfeiting goods.

The ninth conference on traditional medicine of countries in the Greater Mekong Sub-region will open in Hanoi on September 5, according to the Ministry of Health.